We're just about half way through the Whole 30 so I thought I'd share a quick update. Overall it's going amazing. I thought the first week would be incredibly hard, but it was actually the second week that was more challenging. I think a lot of it had to do with being busier and sleepier.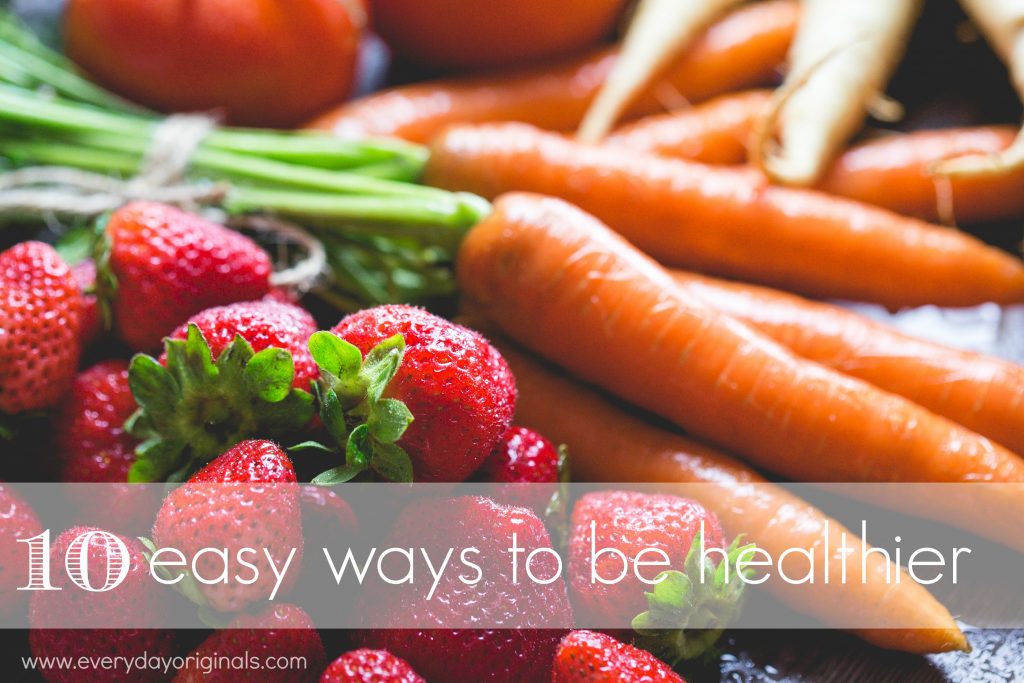 As far as food prep goes, we keep it pretty simple. We've just made sure to have lots of produce readily available. We cook an organic chicken every week normally, so we've continued that. I haven't craved sweets all that much but I have asked for dark chocolate nearly everyday (I haven't had it though!).
There have been a few times that I've "cheated." But nothing major, a snack or a drink here and there, and I've gotten right back on track after each time. I have to say that overall I feel phenomenal. It's been easier to reach for an apple or carrots for a snack versus cheese and crackers or a rice cake. We'll see how the next two weeks go.
With that, here are 10 Easy Ways to be Healthier…
Drink more water. One of the easiest things you can do to be healthy. Better skin, better digestion, more energy, less headaches, flushes toxins and so much more.
Meal plan/prep. Easiest way to ensure you eat well. Plan your meals for the week, grocery shop, prep all the food so it's ready to go for all your meals. When there's a plan in place you won't reach for something quick and easy – translation, unhealthy.
Take the stairs. Ditch the elevator. Get your heart rate up.
Park farther away. Get some steps in by parking farther away. It's also less stressful when finding a spot as you're not focused on finding the closest spot possible.
Sleep. And sleep well. It's amazing how good you feel after a solid night sleep. Your body and mind will thank you too.
Walk 250 steps/hour. An easy, attainable goal. It's .10 of a mile. You can do this in a few laps around your house likely. But added up, over a 10 hour day, that's 2500 steps and an extra mile that you've just walked.
Stretch. For your body and your mind. Takes no time at all. While you're at your desk, watching TV, cooking.
Limit Sweets. Easier said than done. But you'll feel better. And enjoy them more when you treat yourself.
Limit Caffeine. Even easier said than done. I've worked hard on this since I got pregnant. I'm a tea drinker, but I used to have 3-4 cups a morning. Now I mostly have one, occasionally two. And I've made green tea the norm for the health benefits and black tea is a treat.
Meditate. Just five minutes. Two minutes even! Just sit and clear your mind. Breathe deep. Reset and recharge.
What quick tips do you guys have for healthier living?