Out here in CO they don't have u-pick farms easily accessible. Normally I enjoy a nice day of picking fruit and then canning it or making jams. I had to make do this year since there's no u-pick, which is how I ended up with 20 pounds of peaches from the farmers market. Al's face was hilarious when I walked up to him with my massive box of peaches.
A local (and by local I mean many hours away from the city because no, there are not peach trees IN Denver) farmer was selling imperfect peaches for half the price of perfect ones. So I scored 20 pounds of peaches for $22. Which is amazing. And the truth is many of them had absolutely nothing wrong, and the ones that did were either bruised or misshapen. Nothing that was going to poison us.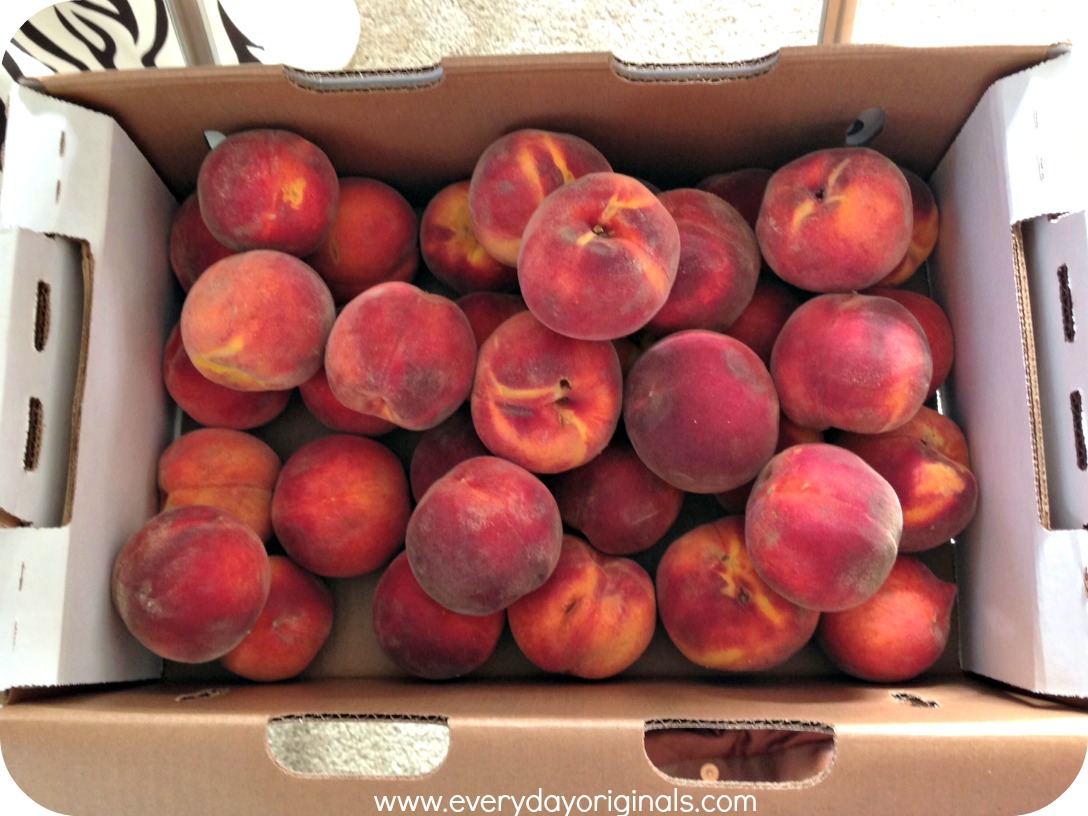 I don't own a canner, but I needed to get canning right away because they were ripe and I didn't want them to go bad.  So instead I used a huge stock pot and it actually worked out perfectly with a few small adjustments. I do own this canning kit that my sister gave me as a gift, and I will say if you plan to do a lot of canning it makes the process a whole lot easier.
Here's the process I used and I'm happy to report that it was successful. Happy canning!
1. Wash all jars and lids with hot soapy water. Once clean, submerge in the large stock pot and boil for 10 minutes to sanitize. I've heard you can also do this in a dishwasher on the sanitize setting. #iwish #whatdishwasher
2. In a separate pot while those are boiling submerge the peaches in boiling water and let sit for 60 seconds. Remove with a slotted spoon and place peaches in a bowl of ice water to stop the cooking process. Once cooled remove the peaches and the skins will peel right off. It's messy, but worth it.
3. Remove the pits and dice or slice up the peaches however you like them. I slice ours. Fill each jar with the peaches. Don't overfill the jars but do shake them a little to fill in any open spaces. Fill the jars to about 3/4″ below the top of the jar.
4. Bring 6 cups of water to a boil in a sauce pan. Add 2-3 cups of sugar (I used 2, but we don't love super sweet fruit) to the water and stir. Lower heat to medium and continue stirring until a syrup has formed.
5. At this point you can add 1/2 tsp. of ascorbic acid to each jar to prevent browning. You could also soak the peaches (before placing in jars) in a lemon juice mixture. I can't speak to either method as I had neither of those on hand, but I really didn't want brown peaches. I only had lime juice. So, well, I added that. I didn't measure, just a big squirt into the syrup. I did taste it and it was quite delicious.
6. Pour the syrup into each jar up to the bottom of the threads. With a cloth dry off the threads to ensure there's no moisture. Secure each lid onto the jars.
7. Fill half of the large stock pot with water. When the water reaches 180 degrees carefully add the jars. Now, this is where I had to make some changes since I didn't have a canner. I never let the water get to a vigorous boil because I didn't want the jars to clunk around. So instead of heating the water on high I heated it on medium, which obviously took longer. I carefully lowered each jar into the pot making sure none touched each other. Once they were in there they fit quite snugly and I continued to cook the water. Make sure the water level is 2″ above the top of the jars.
8. Continue cooking over medium heat until the water comes to a boil. Again, not a vigorous one, my boil was very soft and sweet. Continue boiling for 25 minutes for quart sized jars. If you're at high altitudes like we are add 2 minutes for every additional 1,000 feet of altitude. I boiled ours for 33 minutes.
9. Carefully remove each jar and let cool for at least an hour until the jars reach room temperature. Once cooled, push down on the lid. If it pops back at you then it didn't seal properly and you should refrigerate and eat those peaches. You can always try to re-process them but I just eat them if it doesn't seal. If it doesn't pop back at you then it has sealed correctly. You should go ahead and stand each jar on its lid to make sure no leaking occurs. Again if leaking occurs, eat them. If no leaking occurs they have been properly sealed and are safe for storing!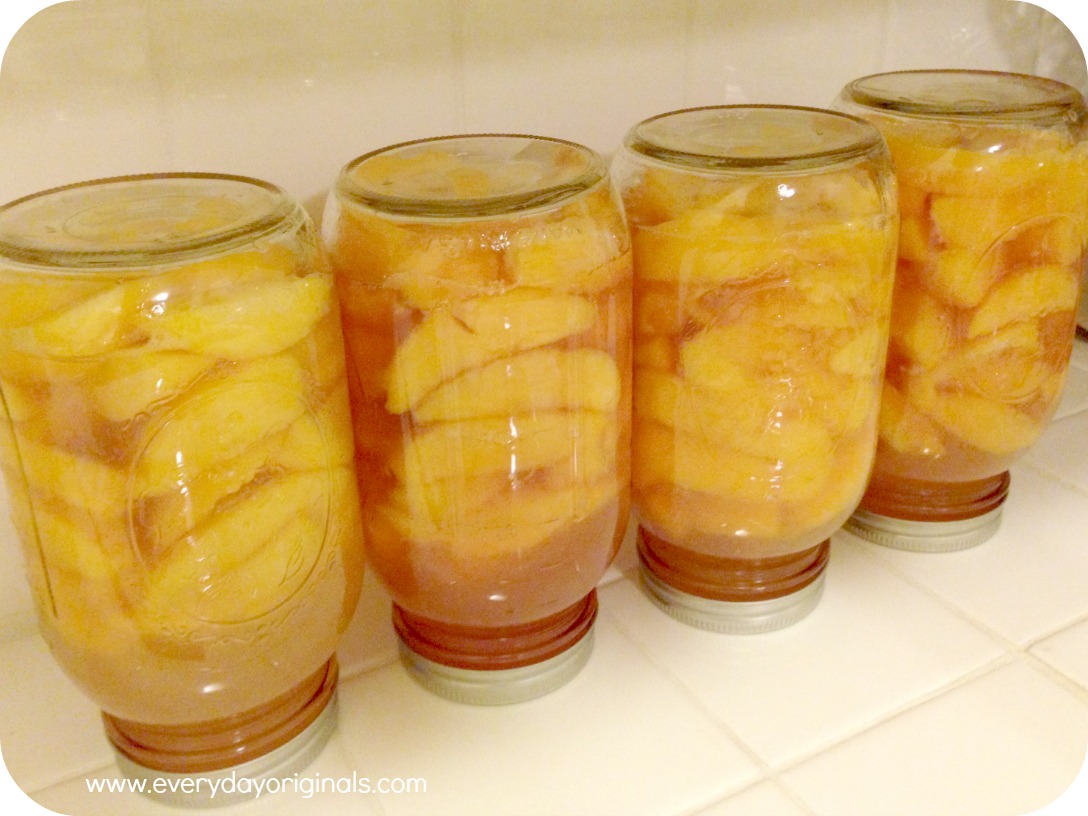 10. Canned peaches will last up to 12 months; be sure to label and date each jar. Upon opening if there's any mold or any other unidentifiable substance on the peaches, toss them.
I've done 4 jars already and plan to do another 8 between tonight and tomorrow. Working in such a tiny kitchen makes it challenging to do large loads at one time. I also plan to make peach jam and will share that with you guys as well. Feel free to ask me any questions. I'm no expert but I'm getting better with each time I process!