Yesterday Al and I hosted a surprise engagement party for my sister and her fiancé here at our house. It was the hottest, most muggiest September day, which made for an interesting hour of 25 people shoved into our house before the couple arrived. Once they did arrive though, we were able to disperse and head outside to cool off a little!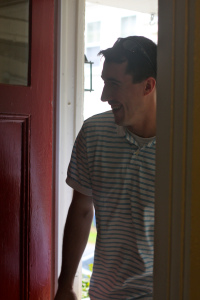 It was a fabulous afternoon and although it was hot, it wasn't raining. We hosted all of their closest friends in a casual, laid back Sunday kind of way. We had football on, grilled burgers and dogs, had a great variety of food and desserts and enjoyed celebrating the newly engaged couple.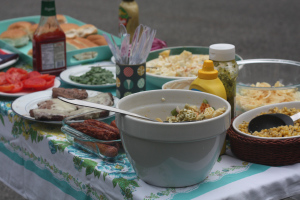 My focus for the party was to keep it simple and not overcrowd with party decor. Since we were already cramped with people, we really didn't need massive numbers of balloons and streamers adding to the claustrophobia.
I focused on warm fall colors and using what I already had around the house. I picked up a few sheets of scrapbook paper at A.C. Moore and worked with those.
A friend had given me a bouquet of flowers so I split it up and used mason jars for vases. We also used an antique cigar box to hold cards guests brought and as a place where they could write a well wish to the couple. I displayed some wine corks and used empty bottles to the display on the table.
I knew I wanted to display photos but really didn't have the space for anything huge. So, I took advantage of the fridge and hung a few ribbons with photos clothes pinned on.
After they arrived we went into operation setup and got the tables and chairs in place outside. I then moved the vases of flowers outside along with some of the other props.
Everything worked out perfectly. They were entirely surprised and thrilled to spend the afternoon with their friends.
Congrats, Hayley and Seth! Cheers to wedding planning! xoxo