Over the weekend I self cleaned an oven for the first time ever in my life. It was glorious. I know there are mixed feelings on self-cleaning ovens. I read everything from it can blow a fuse and ruin the stove to it can start a massive fire. I went for it anyway and have to say I was entirely pleased.
We ran the clean cycle for 4 hours which I realized after the fact was likely much too long. Our oven wasn't all that dirty. Dirty enough that you could smell food remnants burning while it would preheat but nothing near what I'm sure some ovens look like. Going forward I'll likely try to get in a routine of cleaning it every 6-8 weeks for about 1-2 hours.
But, prior to self-cleaning it I wanted to remove all of the burnt crusty food remnants that were cooked onto the bottom of the oven. I also knew I'd need to clean the oven racks by hand as those were not the type you can leave in during self clean (read your oven manual). I grabbed my vinegar and baking soda as well as a rotting lemon that I located in the back of the produce drawer.
I started by making a paste with the vinegar and baking soda. I didn't measure but if I had to guess I'd say about 1/4 cup of baking soda and a bit less than a 1/4 cup of vinegar mixed together to make a paste. I poured the paste over the bottom of the oven and spread it around with a rag. I let it sit there for an hour or so. When I went back, I used vinegar in a spray bottle to clean it all up. The crusty food lifted with no struggle. I simply sprayed the paste to loosen it and then wiped it up with a rag. Now it was ready for self clean! A quick PSA – open a window or run the oven fan vent thing. Technical term there.
While that was going I filled my bathtub with hot water and a few squirts of dish soap. I placed the oven racks directly in the tub to soak. Another PSA – put a towel down in the tub so the racks don't scratch it up. Learned that the hard way. Good thing we rent. While this all seems like a lot of steps it was actually really low maintenance. I was planning to be home cleaning anyway so the timing worked out well.
After about an hour I drained the water in the tub, sprinkled baking soda all over the racks and then sprayed with vinegar. Using a soft rag I scrubbed the racks and each one became shiny and beautiful again. I would add more baking soda or vinegar as needed on tough spots. I also cut the lemon in half and rubbed it all over the racks to help lift any really stuck on stains.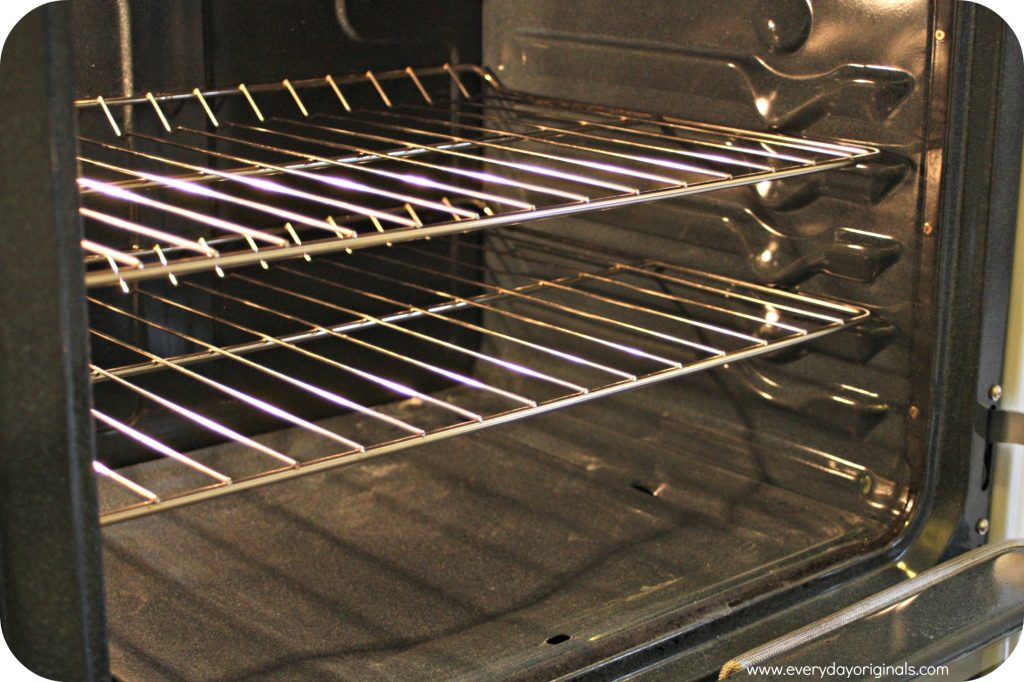 And now don't get me wrong, this was a full body workout leaning over the tub and putting in lots of elbow grease. But I was amazed at the outcome and love that I didn't need to use any harsh chemicals. And I keep trying to tell myself that ya know, if I do this more than once a year it'll be a lot easier! Also, this same method works on gas stovetop grates as well!