When we bought the house it was very clear that this little side room was once a garage. The story from our neighbors is that the woman who lived here was a seamstress and ran a little business out of this space. We really don't need the added space and having a garage is a whole lot more appealing to us for both parking in and being able to have a workshop.
The construction of the wall where there was once a garage door was horrible. The window was falling out, just sliding right down, and you could shake the whole wall. I'm fairly certain if the wind blew hard enough the wall would have fallen. I mean probably not, but you get the picture. A reminder of the before:
The same contractor who did our front porch, the one that was pretty horrible, did the garage. We had hired him to tear the wall down and frame out the door for us. Turns out, when they tore open the wall it was still framed out for a garage door. So really all he and his crew had to do were hang some 2×6's on the right and left side of the frame to make the opening the correct width and tear down the drop tile ceiling.
There was some damage to the vinyl siding so we had him fix all that up. The cost for him to do the garage was roughly $2,000. Makes me sick, to be honest, but it's over and he's gone and we never have to work with him again.
The opening was smaller than a standard door so we had a custom, 7 foot door made. Everyone that comments mentions how small the door is. It is small, we're aware, but it's an old house, things were smaller back then and it fits our car perfectly! Due to the fact it was a custom door and our contractor was not a nice person we were left with an enormous hole in our house for 2 weeks. We boarded it up with plywood and hung a huge tarp on the front to eliminate any water getting in.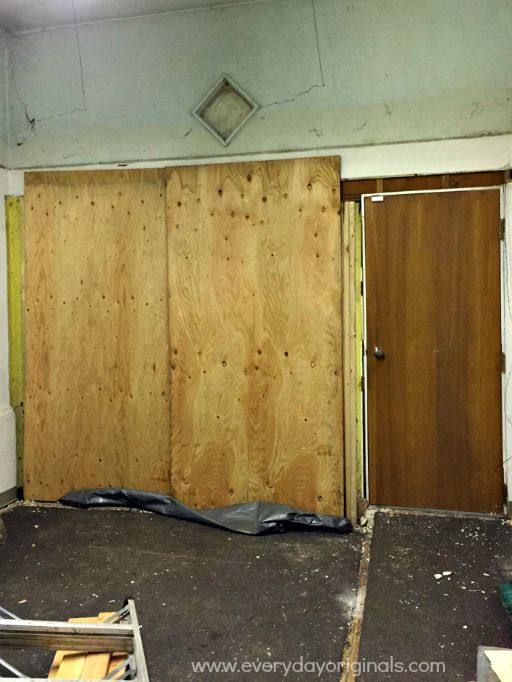 And, as you can see, we used Bagster again!
There wasn't enough space on each side of the frame for a standard 8 foot door unless we took the entry door out, which would have been fine, but wasn't worth the added cost to us. The custom garage door was $100 extra and to replace that entire wall we would have been looking in the thousands. The door and all the parts, keypad, quiet door opener (paid extra for that), labor, etc. was $1,400.
We still have some finish work to complete, as you can see. We need to paint the trim and fix a few areas of siding, maybe wash the house, weed the damn driveway (!), but for the most part we've been loving being able to go in and out, work on projects, hell, even spray paint when it's raining! We plan to replace that side door at some point and the entire interior of the garage needs a lot of love. Since I like you guys and I'm all for keeping it real, this is what the inside looks like: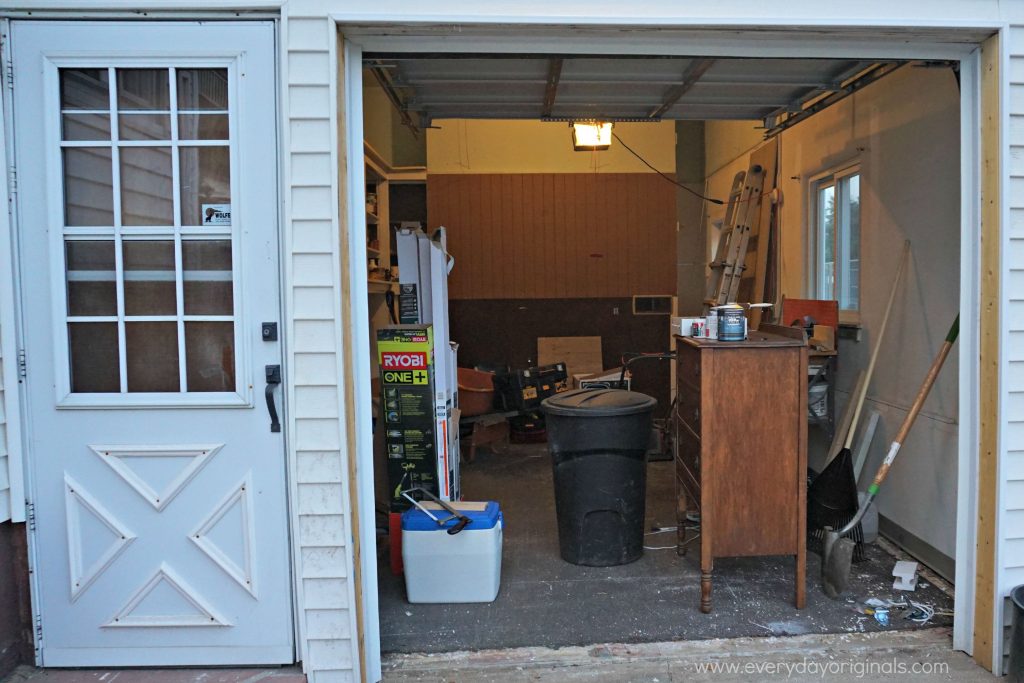 A huge mess
CARPET
Poor electrical work
A lot of very dark brown wood
And so, so much more
But hey, it's a construction zone up in this place, so what do you expect?!