Alison picked up this great dining room table and chair set on Craigslist, but it was in need of some good TLC. The table was in perfect condition but some of the caning was torn on the chair backs and the seats were covered with old, over-used fabric.
With some nice new, crisp fabric and a little creativity she got to work. Using a box cutter Alison cut out all the caning from each chair. With a good deal of trial and error she played around with weaving and knotting heavy-duty hemp to create a new chair back. She removed all the fabric from the seats, cut and stapled new fabric on.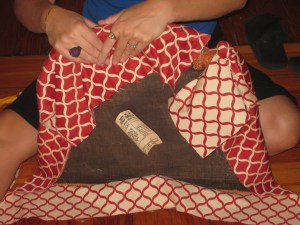 In the end, she had four fabulous dining room chairs:
After the initial trial and error with the hemp weaving, the process went smoothly. Such a great outcome and a fun way to branch out  from the ordinary!