I wanted to make something small for the grandparents at Christmas this year that related to photos of the kiddos. Cousins are being added to both sides of the family (!) so I wanted to make something that they could display photos on. This could also be a great Valentine's Day, Mother's Day, Father's Day gift, etc.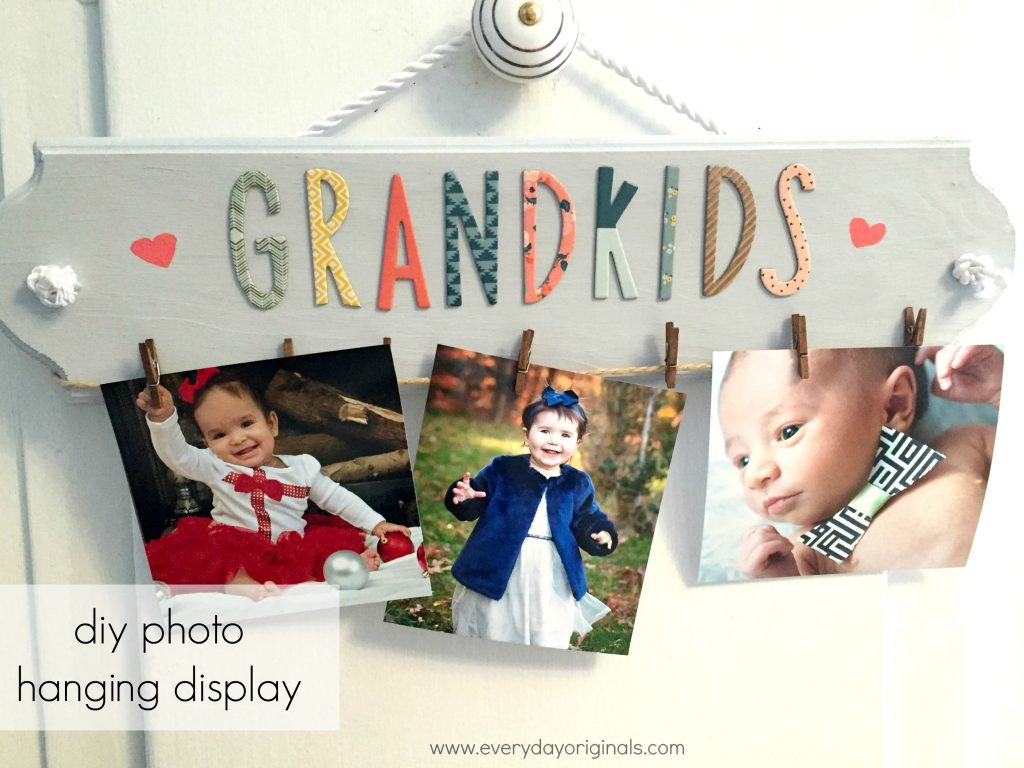 I picked up a small wooden plaque, some craft paints and scrapbook letters. The scrapbook letters weren't just cheapie stickers, they were heavy-duty, cardboard stickers. The mini pins and twine/ribbon we had at home.
I wanted to keep the paint fairly neutral to allow the cute letters to pop a little more. I mixed the paints to get a color I liked and painted the wood with just one coat, plus some touch ups.
Once they were dry I drilled holes on the ends and cut and laid out the letters to figure out placement. I stuck the letters on and painted little hearts too. Side note, we put this bar area into our kitchen (final kitchen to come soon) and really, it's the BEST spot to sprawl out and work on projects. I prefer to stand and it's the perfect height, much better than a kitchen table.
I strung a rope through the holes and tied knots so it would stay put. I also used a staple gun on the back to secure the rope to the wood so it wouldn't lean forward. For the twine, I also just staple gunned it to the back on one side, pulled it tight and stapled the other side.
Added some mini clothespins and hung some photos. I also included extra pins for pictures of the new babies. I loved the way they came out, and really you could use any word – Cousins, Friends, Grandkids, etc.
This post contains affiliate links, which means I receive a tiny amount of compensation if you make a purchase. Thanks for supporting the blog!