Despite our apartment being this itsy bitsy place, we have really nice, high ceilings. Which can make any space feel larger. It's also nice to live in a place where Al doesn't have to duck under light fixtures and door ways (our last place was made for short people). Since the ceilings are so high I couldn't find a shower curtain that wasn't $50+ to accommodate the height. I wanted something very subtle and I just figured I'd wait until I found it.
And then I did. For $4.99 at a thrift store near my work. This thrift store has 25% off on Thursdays so I pop in every once in a while on my way home from work. There was the perfect flat bed sheet that was white with a very soft grey pattern on it. It was brand new, tag still on. I always love finding newbies at the thrift store.
To make it the right size I laid the entire thing out on the floor then laid the current, too short, shower curtain on top. I measured the length that I wanted it to be and then cut around the edges being sure to add in the extra inches when cutting.
I hemmed all the sides of it to have a seamless curtain. To make the holes to hang it I knew I could just cut slits and sew along the edges and call it a day. But I like the look of grommets and I figured they would be easier, quicker and look nice. So I grabbed a box at Joanns for $14.99, but I used a coupon (obviously).
Following the instructions on the package Al hammered and secured each of the grommets. I had attempted to, but one swing of the hammer from him was equivalent to like ten of mine and he always had it secured on the first swing, so he won that job. Marry muscles, folks, makes every project easier.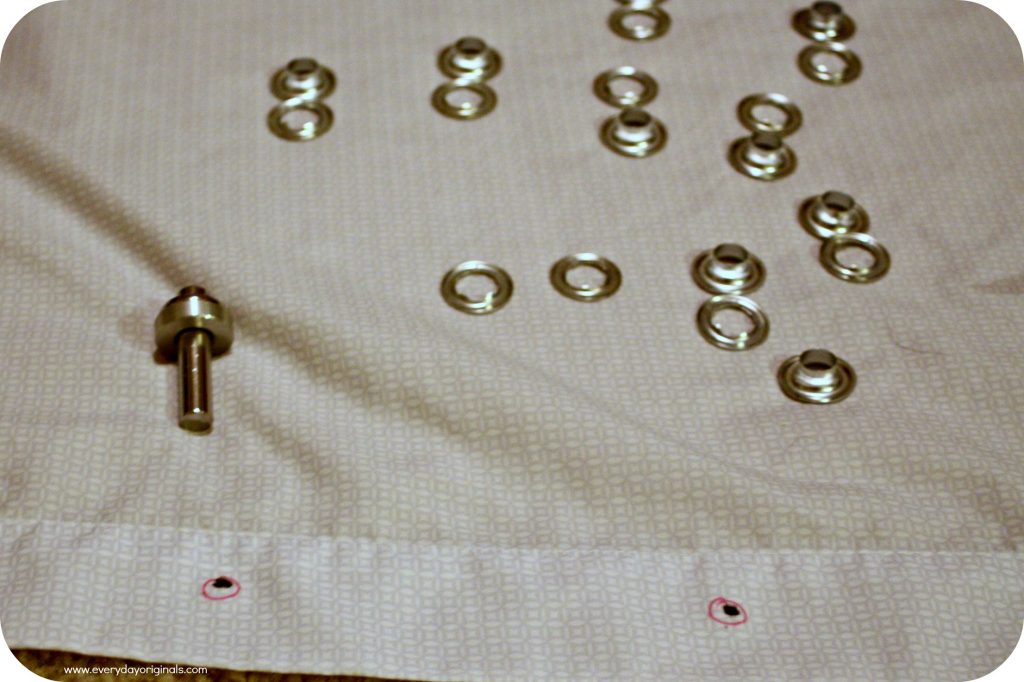 That was it! Final cost was $3.75 for the curtain with the 25% off and $8.99 for the grommets, with my 40% Joann coupon, for a total of $12.74 plus some tax.  A whole heck of a lot better than paying upwards of $50 for a darn shower curtain! And one tip too…I thought we'd have to buy an extra-long liner, but instead we were sure to hang the curtain rod at just the right height so the regular liner still fits it just hits the top of the tub instead of going all the way to the bottom of the tub side. I thought water would still splash up and escape since the liner was too short but it doesn't!
I love the look of it, the simplicity and the airiness. I'm also really happy we went with the grommets because I love the steel look of them. For $4.99 at Ross I also grabbed a stainless steel shower curtain rod. That was one of those things that I went back and forth on. We didn't need it, the one that was up was perfectly fine, but I just loved the way the steel rod pulled the whole thing together. And Al was basically like it's $5 get over it and go buy it. Sometimes I'm even cheaper than you guys think. I even saved the white rod that came in the apartment so I can take the steel one with me when we move out.  #crazylady.