We've been busy working on and thinking up new projects for the house these days. This one popped into my head in a matter of seconds, and was finished in a matter of minutes. Remember this post about goodwill finds? At the time I couldn't find a good use for the great bamboo chest so I had just thrown all my summer sandals in it.
Using a staple gun and some leftover fabric from pillows I made a while back, I lined the entire thing. I made sure the pattern was facing out so you can faintly see it through the bamboo. I'm still going to paint the wood edges, possibly white, but I'm going to leave the bamboo in tact.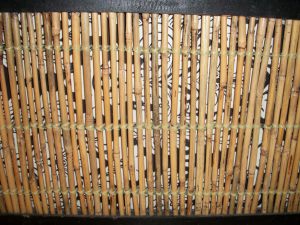 Due to the lack of closet space in our new place this houses our extra bed sheets and towels perfectly. The fabric lining keeps them neat and clean and I really couldn't believe that they ALL fit in there.
Total project cost: $4.99, a steal if I do say so myself!