This is another gift that could be for all ages depending on what you decide to paint. I chose to paint a whale as it's a baby gift.
Start by choosing three canvases in the same size – found in the painting section of a craft store.
Chose the color paints you want as well. I was planning on shades of blue so I grabbed one navy blue and one white paint so I can mix to make different shades.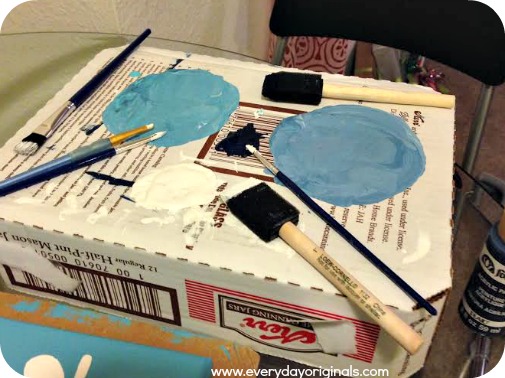 Paint each canvas in the colors you chose and allow to dry fully. Using a pencil lightly sketch out what you plan to paint across the three canvases. You could also trace an image onto the canvases to make it easier.
Then go ahead and paint in the lines! Love this for a kid room or playroom. I also think a giraffe would be really cute. You could also turn the canvases horizontally and create something that way. In the end the sky is the limit with the colors, sizes of the canvas, painting, etc. While it's not perfect, I'm very pleased with the outcome since I did it entirely from hand. And I think I discovered a new-found love of painting!