Roasting pumpkins was something I've wanted to do for years now, but just haven't got around to it. I thought it would be best to try it when I have the worlds smallest kitchen. I guess I like a challenge.
Roasting pumpkins were on sale so I grabbed five. To which Al responded with, "couldn't you have started with two?" while cracking up at me covered in pumpkin. Again, with the challenge. Anyway, this was the easiest process and I don't know why I waited so long to try it. It was time consuming, but I'm confident that was because of the size of my kitchen and the fact that I had no work space.
You'll want to start with reasonable sized pumpkins. Nothing massive because it'll take three days to roast and probably won't fit in your oven.
Start by washing your pumpkins and piercing them multiples times with a knife or fork. Snap the stems off too; or shove a butter knife under them to pop them off like I did.
Place your pumpkin/s on a baking sheet or in a casserole dish and bake for 60-90 minutes at 350 degrees. Mine took about 70 minutes.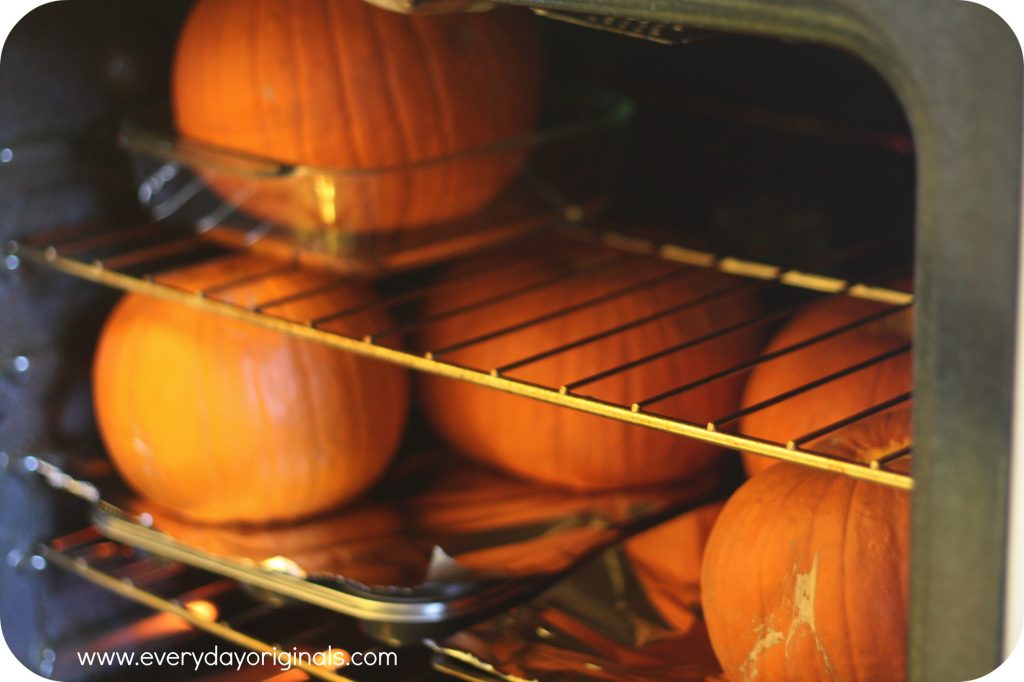 Remove from oven and let cool for at least 20 minutes. I was eager and nearly lost a hand trying to handle the pumpkin too soon, so let it cool folks. Once cooled cut pumpkin in half and scoop out the seeds. Either scoop out the pumpkin or peel the skins off and toss the pumpkin flesh into a food processor. Process until pureed. You may need to add a little water occasionally to the puree to thin it out a little. The food processor can handle about half of the pumpkin at a time.
I then scooped the puree into ziploc bags, squeezed the air out and froze flat so they could all stack easily. I eat a lot of pumpkin when it's in season – smoothies, pancakes, breads, pie, soup, etc. I was able to get nearly 18 cups of puree from 5 pumpkins, which cost me just under $10 total. That amount of organic canned pumpkin at our local market would have cost nearly $28. Totally worth my time and energy!