Do you guys use cast iron to cook? We started to about a year ago. It's one of the safest cook surfaces and it can actually add iron into your food, which for me, with low iron levels and the inability to really consume a lot of iron, is helpful. However, we just haven't gotten the hang of cooking with it. Everything seems to stick and we always clean it wrong and it always rusts so we end up needing to re-season it.
I think we've finally got it figured out though. We've been using the wrong oil to season it all along! We've tried olive oil and coconut oil but I've recently read that lard and bacon fat are the best substances to season it with so food doesn't stick. Which is great seeing as though I hate wasting and now I have a use for the bacon grease!
So, I cooked a box of bacon, saved the grease and got to work seasoning it. I strained the bacon grease through a coffee filter to remove the particles of bacon. The particles left are what can cause the grease to go rancid and I wanted to be able to save it in the fridge for a while.
First, wash the pan with hot water, no soap, and dry immediately on a stove top over medium heat. Remove from heat and using a paper towel rub the grease all over the inside, sides and underneath of the pan.
Place the pan upside down in a 300 degree oven for two hours. Place an empty cookie sheet on the rack below the pan to catch and grease drips.
Repeat the 300 degree oven for two hours part 3-4 times. We did ours 4 times. The more you cook it the more the seasoning sets in.
After seasoning it you only have to maintain it after cooking with it. Each time you cook with the pan, scrape any food from it, wash with hot water, dry it on the stove top burner on medium heat, rub a small amount of grease on it and place back on the warm burner to set (NO HEAT, just the warm burner).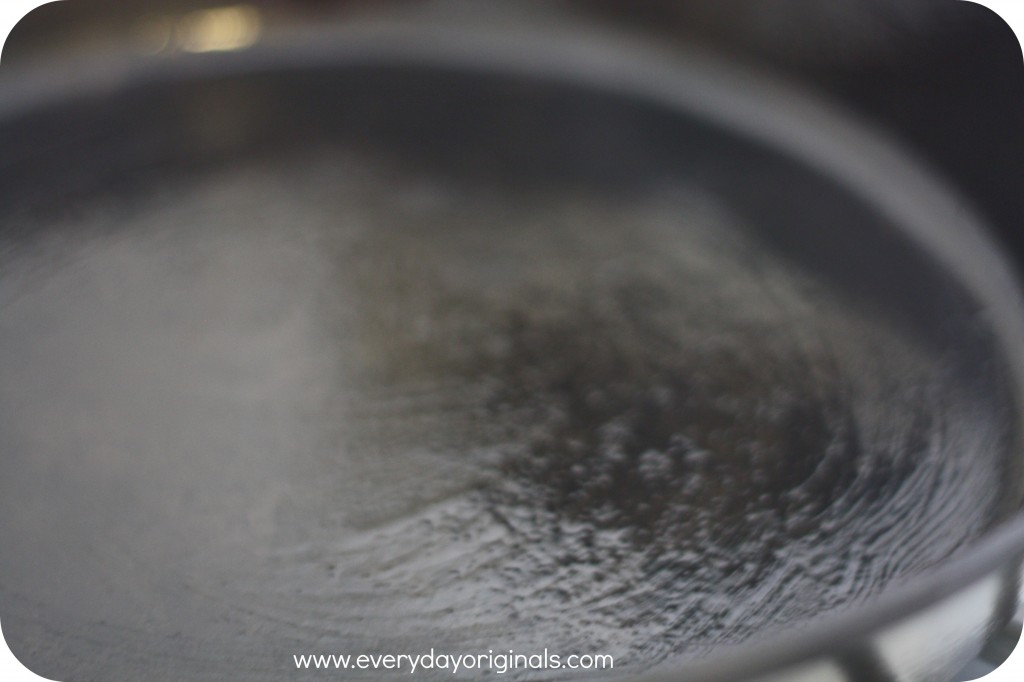 Seems like a lot of work for a pan, but I'd rather take these steps using a safe cook surface for our health, than worry about a non stick teflon surface getting into our food. And, cast iron pans can last for up to 100 years if cared for properly.
Right now we only have one huge one, but we plan on picking up a few smaller ones.  I'm planning to share different things we make because the sky is the limit with these. You can make eggs, stir-fry, bake desserts in it. So much! Do you guys have any tips or advice for cooking with cast iron?