So, bookends and I don't really get along. I can't stand when they weigh like a hundred pounds each and they always have things like golf clubs or creatures or some other crazy thing sculpted into them. After searching for the right ones for too long, and not finding them, I decided to think outside the box. I searched through the house to see what we had laying around and I found a letter sorter (why I ever had one in the first place, I'll never know…).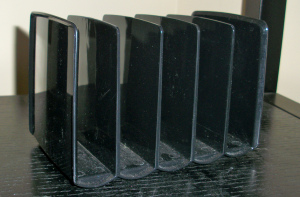 It was in a closet serving no purpose at all so I figured what better use than to hold books. It keeps them all perfectly in place and holds them tight enough so that none can slide out.
We also recently bought a small microwave and in crushing down the box I realized there were these plastic pieces in each corner to hold the appliance tightly in the box. Now, I understand that you might not have a microwave box just laying around, but it's just to show you the things you can do with anything!
I placed one in the back two corners of my row of books so that they can still slide out easily. It held the books tightly and the books weigh enough to hold the small plastic piece in place. I think I might end up wrapping them in either fabric scraps or paper to give them a little added color.
Not bad for another quick option to hold books in place. Definitely share any thoughts or ideas you have for book storage and/or organizing tips to keep them orderly. Also, how's your spring cleaning coming?!