I truly enjoy sharing products that I love with you guys and because of that, I've started a my favorite things series. I find myself always recommending products that work for us to people, so why not share a few each month. None of these posts or products are sponsored. They're honestly items that we use in our everyday lives that are worth sharing with others.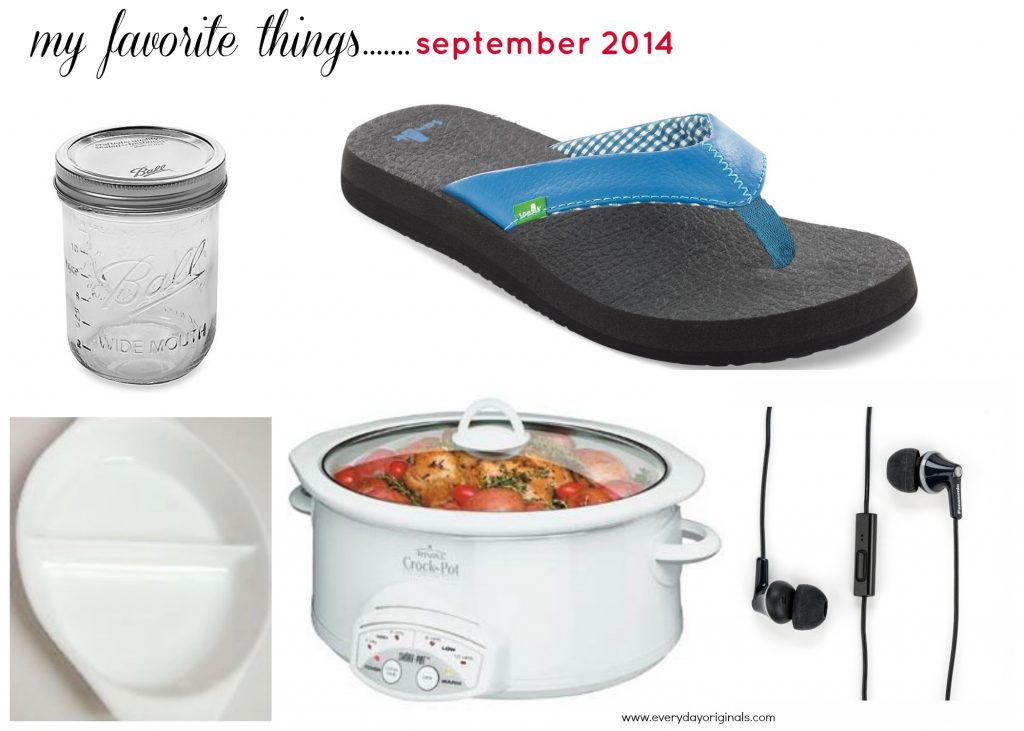 Ball Mason Jars
I've been using mason jars long before they were a "fad." You know, they're everywhere now, as so much more than just food storage. And don't get me wrong, I love using them as vases, storage jars and decorative as well. I prefer the wide-mouthed jars as it allows more space to pour food into and it's just more convenient over all. Also, ironically, my day job shares a building with one of the Ball Company offices!
Sanuk Yoga Mat Flip Flops
I've seen these flip-flops around and was curious but hadn't bought a pair yet. Well my sister convinced me as she's been wearing them for a while. I got these ones on super sale at REI and I haven't taken them off my feet for two weeks. It's like walking on air. I'll likely be investing in a second pair since the end of the season sale prices are so reasonable.
Pyrex Split Casserole Dish 
I couldn't find this casserole dish, or a similar one, new anywhere! Someone needs to start making these again! I picked mine up years ago at a thrift store for a few bucks and I'm hoping to pick up a few more, or grab them on eBay. They're amazing for cooking two separate side dishes, or one of the same dishes but variations and so much more. I originally bought it thinking it was great for customizing meals (because of my stomach problems) so that I can jazz up Al's portion, and it's great for that. But it's also just become an incredibly convenient casserole dish for so many other things as well.
Programmable Slow Cooker
I love my slow cooker. That's nothing new. And while I'll be completely honest and share that this one recently crapped out on us, I'm planning to purchase the same one only the newest model. We had the last one for about five years and it was phenomenal. We use our slow cooker weekly and eventually the ceramic insert cracked. Since it's inexpensive I don't mind replacing every five years or so. We definitely got our money's worth!
Panasonic Headphones
Raise your hand if you hate the iPhone headphones? Is it me or do they fall out of everyone else's ears too? I was on the hunt for a solid pair of headphones that will double as being great for exercising and also for long conference calls. I wanted them to be comfortable since they're shoved in my ears. This pair was the winner. I purchased them based on reviews I read and they have not disappointed at all.
That's it for this month. Back with more in October!