I love wreaths. However, they can be expensive to buy and tedious to make. This however, is so easy to make and really quite cute.
Things you'll need:
foam wreath form (found at craft store)
4-6 yards of ribbon, depending on size of wreath form you have
1 yard of a different ribbon
embellishments of your choice
sewing pins
Using the sewing pins, pin the end of the longer ribbon onto the wreath form. Wrap the ribbon completely around the form and pin the end of it into the styrofoam too.
Make a pretty little design or bow with your other ribbon and pin that on. Then pin on whatever else you want to add. I put a snowflake on the ones I made.
I made one for our kitchen: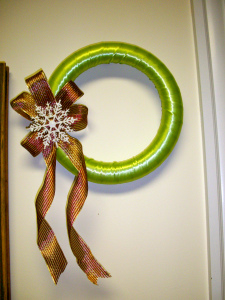 And one for my sister, Hayley:
Super easy and can be done in about 10 minutes. Not bad when you need something to take up space on a bare wall or door. You might even have some ribbon laying around that you could use, I found the red ribbon on mine in our holiday decor bin!