A few weekends ago we started our vegetable garden. We were going to make it a container garden like we usually do, then we decided we'd build a raised bed and finally Al suggested the winner. We took an old child's dresser/armoire and converted it into a raised bed. It was the most inexpensive option at only $10.50 for the structure. We found it at a thrift store for $14.99, but I obviously had a coupon.
We did have a photo of the structure before we tore it apart, though it was an iPhone photo and it got erased while doing a software update. Just picture it standing up with a door and a bunch of drawers…
There was one section with a door and then five drawers. We removed the door, the drawers and all of the hardware. Al drilled holes all over the back to allow for drainage.
The plants/seeds we chose to plant were: tomatoes, basil, oregano, parsley, cucumbers, salad greens, swiss chard and green beans.
After all of the holes were drilled we flipped the piece over and filled it with soil.
Then we planted all of our seeds and plants. We used the one long drawer to plant the salad greens in to allow them a bit more space to spread out.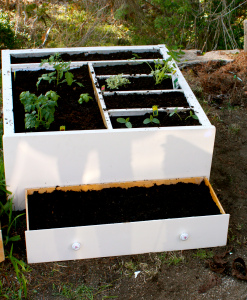 So far so good. It's been about three weeks and everything is starting to sprout and blossom. I'll be sure to include an update in a few weeks. Do you plant a garden? Have any tips/tricks for organic gardening? Have you ever used coffee grinds as a fertilizer? This was the first time we've done that and it seems to be working well!