Remember a few weeks ago when I posted about our organic garden that we had just planted? It looked a little like this: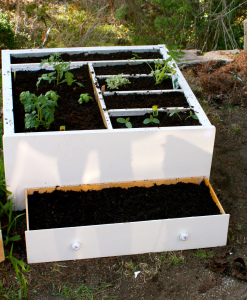 Well now, it looks a little like this:
You can barely see it because it blends in with all the greenery behind our house! It's enormous now. These pictures were taken about five days ago and since then it's grown even larger. Like, three times larger.
So far we've enjoyed fresh basil and a whole lot of parsley from the garden. All of the other things are starting to flower and we'll be clipping the salad greens to enjoy this weekend. There's something so rewarding about going out and clipping what you need from the garden and then cooking with it. Even if it's from just a tiny, built in a child's armoire, garden.
Do you have anything growing in your yard or patio or even windowsill? Do you have any out of this world recipes that use massive amounts of parsley?! We've made marinades, garnished vegetables, Al even slapped a few sprigs on a sandwich. Tabouleh is next on the list to make.
Happy Friday!