A few weeks ago I wrote about us partnering with Waste Management to bring you all the details on their popular product the Bagster Dumpster Bag. I'm back for a final review and to share with you guys that it's amazing. When I left off we were just starting to fill the Bagster bag. It was sitting in our driveway and over the past two weekends we filled that thing to the brim.
We had a variety of waste to toss in to it such as carpet, scrap wood, some cabinetry, stair rails, old dryer ducts, doors, yard waste and more. We made sure to follow the instructions for placement and for filling it.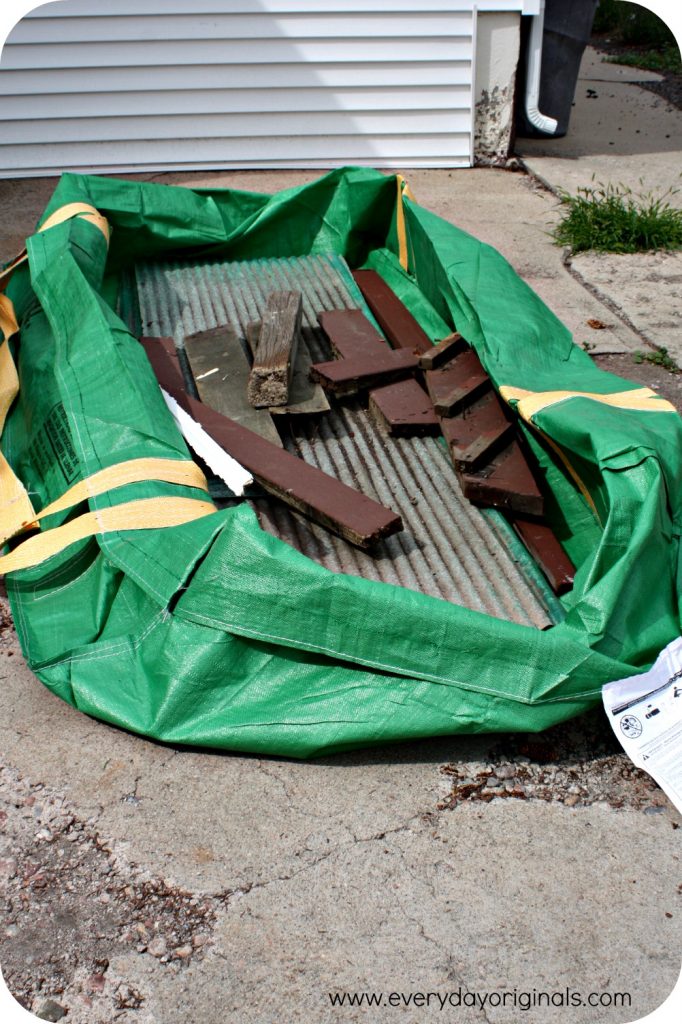 In the end we had to re-arrange just a bit, but it's because the carpet would get all floppy when we tossed it in and kind of roll to the sides. Wasn't a big issues.
So, here's the best part. Once we filled it up it was ready for pick up. I simply went to the Waste Management website, scheduled my pick up for a day that was convenient for me, received confirmation that they would pick up within three days of my scheduled date and that was it.
On the morning of the pick up date I selected, I received an email saying Waste Management would be picking up that day. When I arrived home from work that afternoon it was gone. My driveway was back to its normal, exposed hideousness, and our Bagster Bag filled with junk and waste was gone!
I absolutely wish I could have stayed home for three days waiting for it to be picked up, but that's not practical. We most definitely will be using the Bagster Dumpster Bag again for our future renovations. The fact that we didn't have to load the waste into our SUV, get our car all junked up and dirty and find a place to dispose of all of this was amazing. I didn't have to deal with having a dumpster in my driveway for months until it was full. This was the perfect solution for renovation projects you're tackling one at a time.
We have a major kitchen renovation, a small bathroom reno and a garage conversion in our future and this is most definitely the route we'll go for waste removal. Not only is it convenient, the cost savings is phenomenal, since we would have spent over $200 just to bring this one haul to our local dump – and we would have had to haul it ourselves! So less work and less money is the winner for us.
I'd love to hear if any of you have used the Bagster Dumpster Bag or plan to use it in your future renovations, clean outs, yard pick up, etc. If you do, good luck and have fun!
Note: Waste Management provided us with the Bagster bag to review. However, as always, all opinions and thoughts are my own on the product and service. I only recommend products that are truly helpful to us!