Finally! The never-ending kitchen project! And if we're being honest it isn't completely done, there's always more to do. To refresh your memory, here's what the before looked like.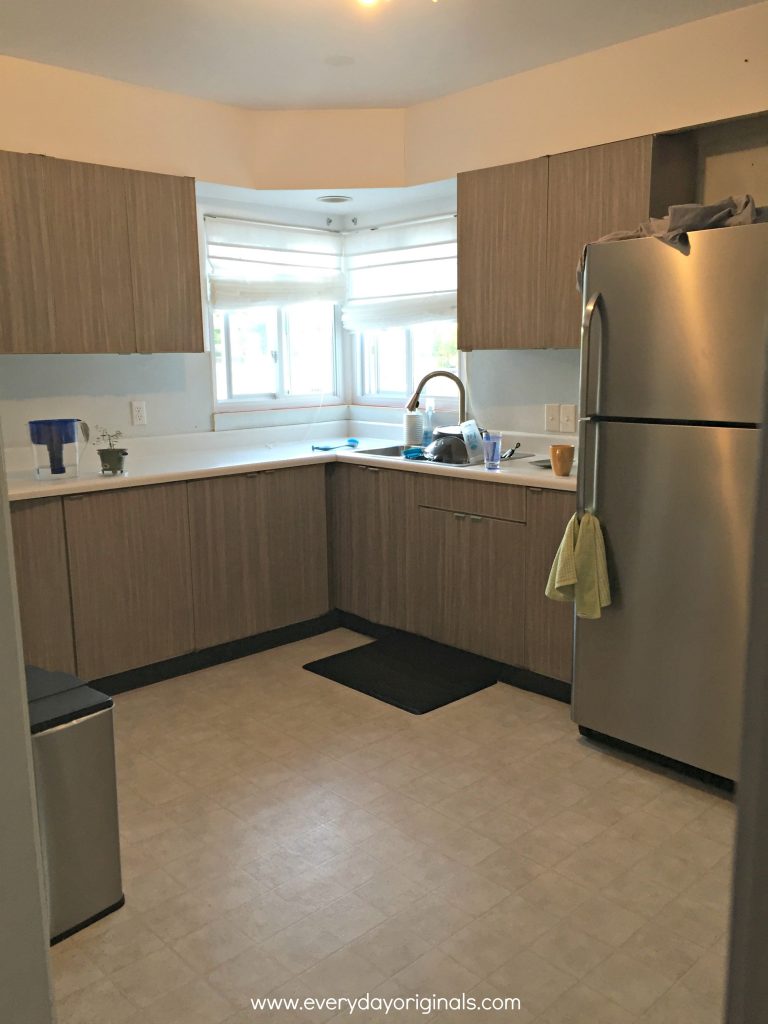 I'm so excited to share this with you guys. Even though we hired out for this project we poured a lot of time and energy into this kitchen. We started last May with our inspiration, our contractor finished up in October and then we still had some finishing touches to complete.
We still have paint touch ups to get to, I'd like to hang more wall art and I'm still working through the best way to utilize those built-in shelves. But those are all things I really don't want to rush and want to let happen organically.
Our kitchen is small. Not itty bitty, but definitely small, so we worked hard to design it in a way that we could maximize the space and keep the character from the original elements to the house – such as the built-in cabinet and that odd storage space above the bar.
We worked with a local company on the design and I'm glad we did. We were able to find ways to utilize the space next to the stove and custom make a cabinet so it wouldn't overhang in the doorway to the basement. You can see that we also had the counter top cut at an angle so we could maximize the depth but not have it hang over that same doorway.
We splurged on some things – like soft close drawers and pull out trays in the cabinets. And we saved on others – we really liked the idea of small glass cabinets at the very top, but the cost was outrageous and it wasn't a necessity. We went with an over-sized corner cabinet for the sink and I love the extra space it provides under the sink.
The counters are a white quartz and while we LOVE the look of them, in all honesty, we do not recommend them. We did SO much research on counter tops and specifically quartz counters. They're supposed to be one of the most durable surfaces and easy to care for. And maybe that's true but it's not with these.
They scuff constantly and everything marks them up. We have to scrub hard to get the scuffs off and many things stain them too. We've had a few bad stains that we've had to treat and work hard to get out, and some that are likely permanent. They're very high maintenance and that's really not something you want in your kitchen. It's a huge bummer, because like I said, we love the look of them, but for the price we paid – about $3,000 – it's totally not worth the hassle.
The only appliance we didn't have was the dishwasher. The stove and fridge we purchased when we moved in and I love the simple styles of them. We went all out with the dishwasher. We haven't had one for FIVE years. That's a lot of wasted time washing dishes. We splurged on it because it's one appliance that you get what you pay for. We wanted something that was going to clean well with not much prep work and would last for many years.
We went with one large sink as I knew I'd want to bathe my kids in it. And the best thing we did was install a garbage disposal button. It's right on the side of the sink and it's amazing. A luxury for sure, but totally worth it. We also installed a water filtration system since we don't have one in the fridge. Beats a Brita filter any day. Love that thing. We do have a filtered ice maker in the fridge so we have both, they're just not both in the fridge.
For the floors we went back and forth a LOT. It's an old house which means old subfloors. Tile would have meant redoing the entire subfloor because it wasn't sturdy enough to hold the weight. We loved the idea of cork but couldn't find a design we loved for the space and they're a little high maintenance (and fade in sunlight and we have a lot of sunlight in the kitchen). We ended up going with vinyl planks and they're amazing. They're a little softer underfoot, easy to care for and affordable.
I shared the DIY chandelier already and the other light over the sink was a local find at a mid-century modern second hand shop. It was more than we wanted to pay at $70, especially since we had to rewire the whole thing, but we loved the style of it, and when we hung it the whole space came together. It's still one of my favorite pieces in the kitchen.
In the space where the stove lives we decided to change the direction of the backsplash. It's vertical in that little cove and it makes that whole area feel larger. I love the look of the different direction compared to the rest of the tile. Our DIY-ish clock adds some color, the mini drawers are perfect for spices, oven gloves, small baby items and more. Most of them are empty but I'm sure will fill up over time.
The bar area. This was an odd space. Our contractor really wanted us to put more cabinets in but we felt like it would make the whole space feel more closed in, especially when rounding the corner into the kitchen. We also really like the cubby thing in the wall and didn't want to cover that up. It's amazing storage and a little quirky, so we liked the uniqueness of it. I found a curtain for a few bucks at the thrift store that I sewed up for now, but I do want to have something custom-made that fits better and makes it easy to access the storage area.
Coffee & Tea Tray | Ceiling Chandelier
We decided to put in a bar area with a few stools and so far the space has been great. It does become a dumping ground for mail, keys, etc. but we work hard to keep it cleared off. I love working there, crafting there or even eating breakfast and having tea. It's also an awesome prep space when cooking since it's so close to the stove. We don't love the brackets, and might eventually change them out. They were MUCH larger and bulkier than we expected.
Never thought I'd be able to write 1200 words about a small kitchen renovation. But it was the biggest project we've done to date and it was a fun one. Every time I walk in the kitchen I just love it. I can't believe how far it's come, how hard we worked to pay for it and how amazingly functional it is now.
In the end, all costs accounted for, we spent just under $15,000. Which, for a full kitchen reno is pretty damn good. If we would have done it ourselves we would have saved a huge chunk, but we just didn't have the time or resources to take it on while I was 7 months pregnant.
We love it. It was worth every cent. Below is the source list of everything in the kitchen. If I missed anything let me know. I've even been more inspired to cook. We'll see if that lasts.
Source List

Big Things: Backsplash tile | Counters | Cabinets | Flooring | Faucet (similar) | Water filtration system | Garbage Disposal Button | Sink | Lighting – both were thrifted
Accessories: Metal baskets | Glass jars | Green baskets | Mini knobs | Clock | Rugs | Drawer Pulls | Door Knobs | Bar Stools (Target on super sale, can't find them online!)
This post contains affiliate links, which means I receive a tiny amount of compensation if you make a purchase, at no additional charge to you. Thanks for supporting the blog!