Back in August I mentioned that one night Al decided he wanted a new chair for the living room. So within about an hour I was on Craigslist and we had a brand new chair. It was seriously brand new. The person we bought it from said he had barely used it and it looked that way. He was in crunch mode to move so we came away with a free floor lamp too. Boy, do I love Craigslist.
After a few weeks of living with the chair we started to realize a few things. It fit perfectly in our living space. It was modern, clean lines and fresh looking, which we loved.
(Note: apologies for the terrible photo, this is actually a photo showing that massive mess that'll be explained in a later post. I guess it was the only photo I had with the chair in it!)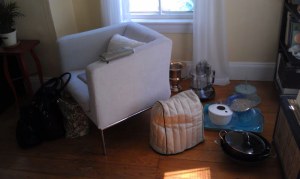 But, it was only comfortable sometimes. It was comfy to sit in to grab 5 quick minutes of the news on TV, or catch a quick episode of Modern Family. I found that I could curl my way up into it but after a while I was all cramped up and Al, well, he could just never find his spot in it. SO, after much consideration we decided to put it back on Craigslist and start searching for another new chair.
A few weeks ago my family had a huge yard sale and my Aunt was planning to sell her Ikea Poang chair and ottoman that never really fit in her living room. Every time we go to Ikea Al has to sit in the Poang chairs. So we decided to go for it.
It's much more comfortable, has an ottoman and can fit people of all shapes and sizes, versus the narrower chair we previously had. Even though I don't think it's nearly as pretty to the eye, like the modern and sleek lines of the other one, this one is much more practical.
I guess those are the choices we have to make some times! It fits our space well and when we have people over we move the ottoman upstairs to allow more space in the living room.
Do any of you have a Poang chair? Love it? Hate it?