I have a love hate relationship with toss pillows. Do you? I cannot fathom the cost of good pillows. I've tried over and over again to make pillows for the couch but I'm just not good at it and they never seem to hold up long enough.
I started searching around and prepared myself to be patient, because I knew it would take a while to find good quality pillows for a reasonable price that didn't have hello kitty or something on them. It took me about three and a half minutes.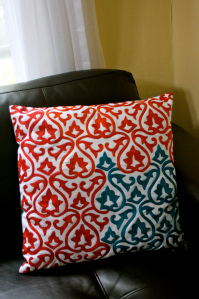 I found them on Pier 1's website and they were on sale for $8 from $40. I couldn't believe it. Every color I was looking for was in them. There were only two left at the closest store to us. So I hopped in the car and booked it the 22 miles to get them.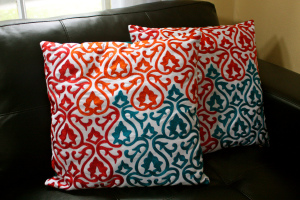 I love them. They tie in all the other colors in the room. And the best part…the pillow cover zips right off and they're machine washable.
Where do you guys find good pillows for a reasonable price? What do you consider a reasonable price?! Maybe I'm just being cheap frugal.