Have you ever thought to create some inexpensive art with a placemat? I was perusing Bed, Bath & Beyond one day and stumbled upon this placemat that I just loved. I loved the colors and the detail but I really had no need for more placemats.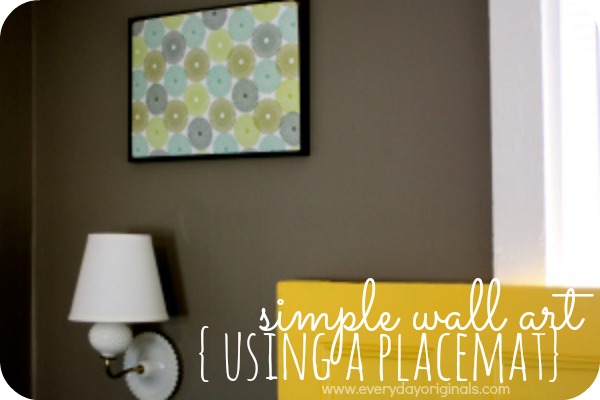 I thought a little more creatively and knew the colors would match perfectly in our bedroom. I already had the correct sized frame at home so I grabbed one placemat, on clearance for $1.50 and set off to make some cheap art.
I framed it and hung it above one of the antique wall lamps in our bedroom. I love the look of it and it adds a different touch of art from the wedding photos on one of the other walls.
Problem now is that we just got a new comforter. And while we're trying to decide if we love the comforter I'm trying to find another place for my placemat art because it does nothing but clash with the new bedding. If I do have to move it I know it'll be perfect in our bathroom as well, so I have options!
Also, random side note. Every time I went to type placemat art it came out placemart. I couldn't control it, my fingers just automatically typed placemart…!