If you missed part one of our road trip adventures through Utah you can read about that here. From Salt Lake City we headed north to Idaho and we had no clue how amazing this gorgeous state was!
Also, after writing this post I can't believe how much we did in Idaho. I really can't believe how much we did this entire trip! 
Twin Falls, ID
We didn't stay (or eat out!) in Twin Falls but it was the perfect stop for us to take a break from driving, stretch out, hike and swim a little.
What we did: Shoshone Falls & The Perrine Bridge
Shoshone Falls: Stopped here for a few hours, spent time at the lake, did a short hike (it was SO hot), saw the waterfalls and really just took our time eating a picnic lunch and relaxing a bit after being in the car. I highly recommend the Shoshone Falls. It cost us $3 to get in and the views were breathtaking.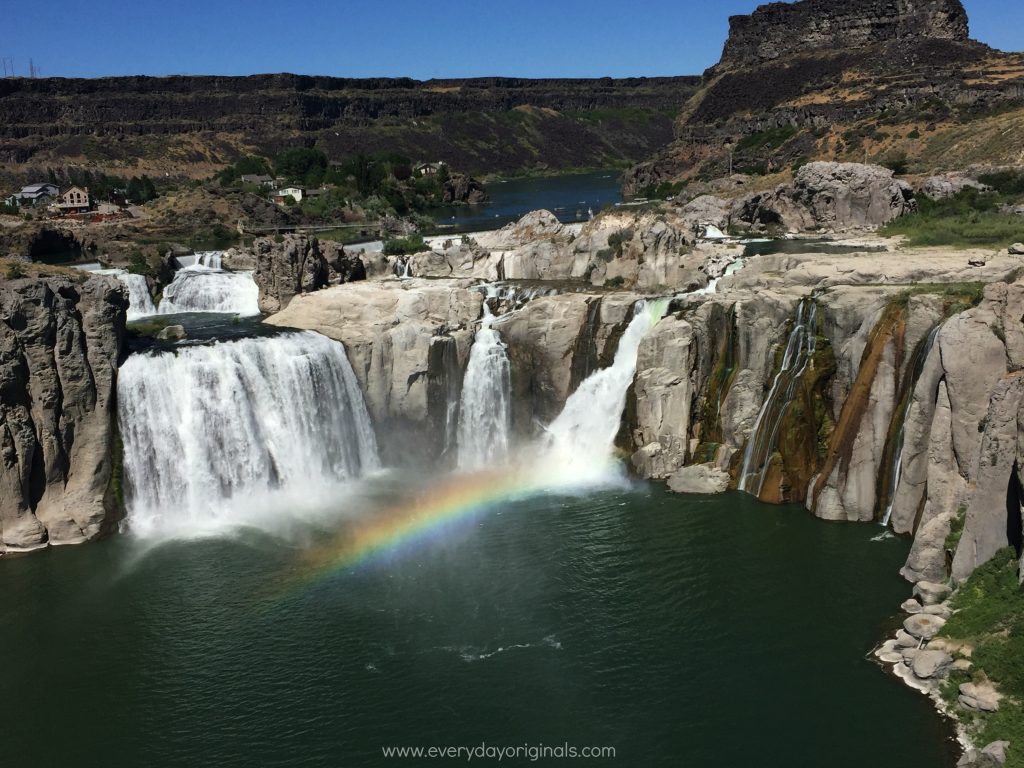 Perrine Bridge: On our way out of Twin Falls we stopped at the bridge which overlooks the snake river. The overlook was a great place to stop – it's just a pullout on the side of the highway – but you could see the river, bridge, boaters, golfers and more. Again, absolutely gorgeous views.
Boise, ID
Where we stayed: Hampton Inn & Suites Downtown Boise. This was a great, central location, within walking distance to much of the downtown area. We were right across from a Trader Joe's which was also convenient so we could stock up on food before heading out of the city.
Where we ate: Fork Restaurant. This place was a farm to table restaurant that didn't disappoint! The food was fresh and delicious, the atmosphere was charming and the wait staff was very accommodating. I highly recommend this restaurant if you're ever in Boise.
What we did: Slept. Just kidding. Sort of. By the time we got to Boise it was early evening and we wanted showers and food. I was exhausted. Could barely keep my eyes open through dinner exhausted so we ended up walking our dinner off and turning in for the night. The next morning we took an early walk around downtown, hit up Trader Joe's, got gas and a fishing licence and were on our way.
Cascade, ID
Cascade was again a stop over town en route to our destination. We made a quick stop at Lake Cascade, took in the views and continued out. Quaint little town!
Where we ate: Grandma's Homestead Restaurant. Not sure if we were extraordinarily hungry of if it was just really delicious, but this was the best breakfast for lunch we've ever had. It's a small diner with sweet wait staff and your typical breakfast/lunch menu.
Riggins, ID
Riggins was just outside of Lucile (where we stayed) but we did spend some time here as this is where the grocery store was, gas, shops, restaurants, etc. It's a small mountain like town known as the White Water Capital of Idaho on the bend in the Salmon River.
What we did: We drove the river for quite a while to explore a bit and found a quiet beach spot near the Van Creek to hang out for a few hours. It was right near a white water launch area so we watched the boaters, swam in the river, read, relaxed and just enjoyed the peaceful surroundings.
Lucile, ID
Where we stayed: An Airbnb Sheep Wagon! This place was amazing! The sheep wagon overlooked the river but we had full access to the main house, so we had a kitchen, bathrooms, showers, etc.
What we did: Al did some fishing, I did some reading. We hiked around the property and across the Salmon River with another couple also staying in a cabin on the property. We relaxed at the river, had a campfire and really just chatted with each other. It was so peaceful.
Oh, and, I broke the car. I was driving down the hill to the sheep wagon and went over a large tree root that tore off the plastic thingy under the front of the car. That's a technical term there. It was a bit nerve-wracking as we didn't know what, if any, damage was there and we really didn't have plans to be stuck in Lucile, ID. The next day we drove it in to the local garage and for $16 we were on our way. The plastic piece just had to be secured again and luckily there was no further damage. Phew!
On our way out of Lucile and to CDA we stopped at the Pittsburgh Landing where you could see Oregon on the other side of the river. It was talked up quite a bit so we thought we'd check it out. It was 30 miles up and then down a mountain on a dirt road in a Honda Fit all to see a boat ramp. I'm not joking. It was not worth it. Skip it!
Coeur d' Alene, ID
I drove a solid 4 hours from Lucile en route to CDA. Which was pretty good since really Al drove almost the entire trip. Well, I got pulled over 2 miles from the next bathroom stop, and I mean pregnant lady in the car for 4 hours, I HAD to go to the bathroom.
Our proof of insurance was expired – it had actually expired while we were on our trip so the new card was in our mail at home. I had to call into the insurance company to prove we had insurance and in the end the nice state trooper let me off with a warning. I told him I had to pee and to have a nice day. Then I missed the exit for the bathroom and the next one wasn't for another 30 miles.
Where we stayed: Greenbriar Inn. It was a historic bed and breakfast that had phenomenal reviews. Unfortunately, our experience was not positive. The staff wasn't welcoming, the room was very dirty, didn't look anything like the photos, there was stale food in the common area and overall wasn't pleasant. We actually got our money refunded after we checked out due to our experience. We couldn't wait to check out, which was too bad because we loved Coeur d' Alene!
Where we ate: Franklin's Hoagies, Crafted Tap House & Kitchen, Unchained Tap House, Syringa
Franklin's Hoagies: the B&B we stayed at didn't offer breakfast on weekdays so instead they comped breakfast here. It was awesome! We ate there three times, the owner was super friendly (and helpful with recommendations in the area) and the food was really tasty!
Crafted: Great atmosphere with a live concert going on in the park across the street. The beers were delicious, as was the food. Despite it being super crowded we didn't have to wait long for a table at all.
Unchained: Fun, bicycle themed restaurant with great beer. We shared a pizza after a solid hike so it was obviously delicious to us. It was pretty quite when we went as it was a late lunch but definitely worth it. We'd go back again.
Syringa: We were looking for a lighter dinner so stopped to have sushi at this place. Despite it being on a super busy road, it was nice to sit outside and the sushi was really good. It was outside of the touristy area of CDA so that was also a nice break from the norm.
What we did: explored the city, checked out the green on the lake golf course, had a lake morning, hiked Tubbs Hill, hit up a laundromat and got a car wash!
Explored downtown: CDA was such a walkable area which we loved. Lots of shops, bars, restaurants, art galleries and more. There was a live concert in a local park and it was just peaceful to walk around the lake and see the sunset and marina.
Lake Coeur d' Alene: we spent one morning at the lake. We got there early to get parking and while it wasn't too crowded. We were going to kayak and paddle board but there was already a wait for both so we passed on it. We swam, walked the lake, read, relaxed and enjoyed the scenery.
Hiked Tubbs Hill: this was awesome. Absolutely gorgeous views of the lake, great trails, amazing overlooks, little beach spot nooks and more. However, we thought it was a quick, easy trail so we were not prepared. Ended up get lost due to NO signage on any of the trails, we were both starving and hot and I mean ya know one of us pregnant. We ended up finding our way out (we knew we would since it was a hill but it was still frustrating) and in the end it was actually an amazing hike. And from that point on we always packed a back pack.
Laundromat & Car Wash: we were just about out of clothes and were heading into the woods for most of the remainder of the trip so thought it was best to do a quick load. And, the car was COVERED in mud top to bottom from the 30 mile dirt road drive to Pittsburgh Landing so it was time since every time we got in or out the back of our legs would get covered in mud!
CDA was definitely a touristy, resort town, and while that was kind of a bummer (we weren't expecting that) it was still a beautiful place to visit and we would absolutely go back.
Wallace, ID
Wallace was another stop over town en route to Montana. Again, a charming historic mountain town (are you seeing a theme with the stops we like to make?!). The mayor also claims that they're the center of the universe.
What we did: Visited the historic Oasis Bordello Museum, which was quite fascinating. Did some antiquing, popped into different shops, walked around, stretched, learned about the history.
Where we ate: Smokehouse Barbecue & Saloon. Al had a sandwich here and it wasn't good. The service wasn't great, the food wasn't great and there were too many flies in the restaurant for our liking. I wouldn't recommend it.
From Wallace we hit the road and headed east for Montana. More on that tomorrow!