Excited to share the Montana part of our trip with you guys! Glacier was so amazing. Check out the Utah and Idaho portions of our trip too!
Big Arm, MT
PSA: get gas when you see a gas station even if you have gas in the tank. We came reeeaaaaallll close to running out of gas in the middle of nowhere. We had to drive six miles past the campground to get gas and we just made it. It was a little stressful. Just a little.
Where we stayed: Big Arm/Flat Head State Park Campground. This was the best campground we've ever camped at. Our site was right on the lake with our own small private beach area.
Where we ate: Big Arm Marina Bar & Grill. Al grabbed a burger here and I made food at the campsite. The burger was good, fries were delicious and the service was quick (we got it to go and ate at camp).
What we did: It was dinner by the time we arrived here so we grabbed food, set up camp, went for a long walk around the campground and really just hung out and relaxed at the lake. Al did some fishing, I did some reading and we had a great campfire until we went to bed. The sun didn't set until about 10pm so it was amazing to have so much daylight. We both slept the best we had the entire trip here and I think it was a mix of being exhausted, the crisp mountain air and the sound of the lake literally right outside our tent.
Glacier National Park
Was absolutely phenomenal. Photos don't even do it justice, you can't capture the beauty that you see with your own eyes. The colors in nature were unbelievable!
Where we stayed: Lake MacDonald Lodge Cabins. We thought we were roughing it, but we were actually in the nicest hotel room we've ever stayed in. Which at first we laughed about but it was amazing to sleep in a comfy bed, take a hot shower and be comfortable for a few nights. Right outside the cabin door was the walkway to the lake and it was right next to the lodge, so a good, centrally located area.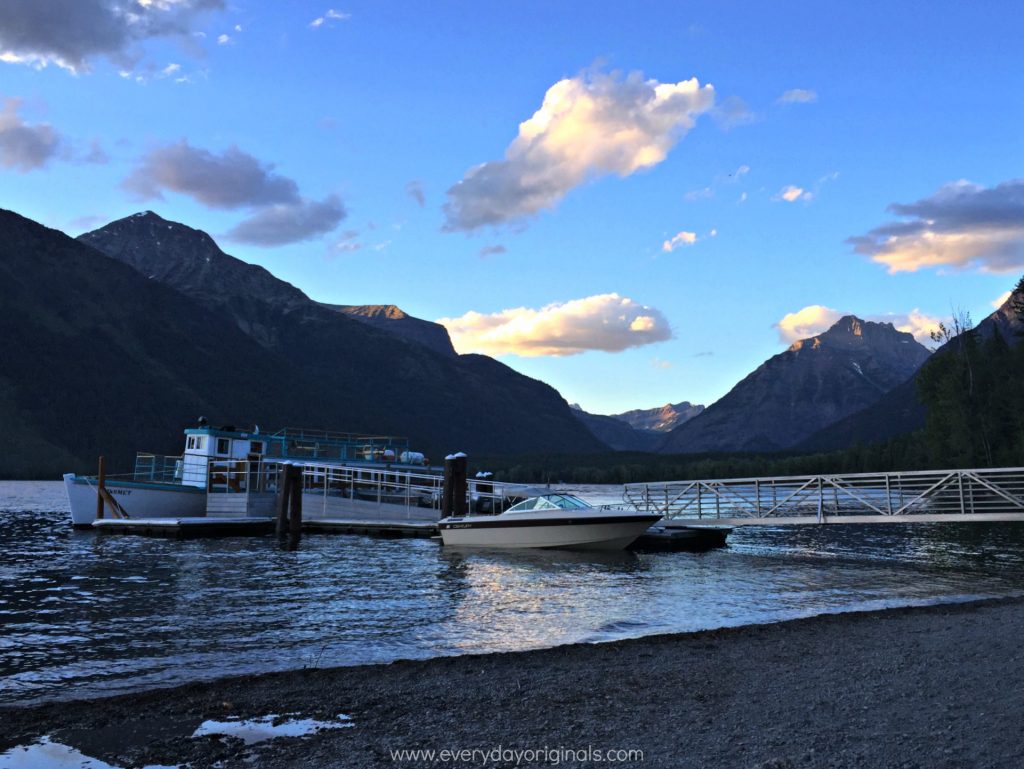 Where we ate: Jammer Joe's Grill & Pizzeria – this was on site, not bad. Simple food – pizzas, salads, soups, sandwiches. The rest of our meals we cooked on the camp stove at the picnic areas (no camp stoves allowed on site at the cabins) or had on the go – cereal or protein shakes in the car.
What we did: Ranger led program, Avalanche Lake, Going to the Sun Road, Hidden Lake, Many Glaciers.
Ranger Led Program: The national parks host ranger led programs on site which are about 45 minutes to an hour-long. The topic of this one was The History of the Visitors – focusing on the visitors to Glacier over the years. Lots of great history on the park, how it's evolved and what the future looks like.
Boated on the Lake: we rented a small boat for I think 40 bucks or so and went out on the lake for a few hours. Al did some fishing, I read (you seeing a pattern here) and we just enjoyed being on the water. We also saw a bald eagle's nest with a baby eagle in it!
Avalanche Lake Hike: This was a 4.5 mile hike round trip, fairly easy terrain but a really great trail. The payoff was an amazing lake with mountain views and glaciers surrounding it. Great spot to stop and have snacks and hang out for a while. It wasn't too crowded and was a really, really awesome hike! Added perk – there were bathrooms just before you hit the lake!
Going to the Sun Road: We stopped at most of the pull offs to see waterfalls, mountains, gorgeous views and more. Each pull off offered something different which was awesome! We drove the road at odd times of day (early morning, later evening) to avoid traffic and crowds.
Hidden Lake Hike: BEST hike we did. 5.4 miles round trip in snowy, steep terrain. We definitely did not have the right gear, but it was too good to miss out on and really no one out there had proper gear. But we weren't cold while hiking and that was most important. Our feet got a little wet but we knew we could change when we were done.
At the top was  Hidden Lake, which we were not able to get too close to because of grizzly bear warnings, but we were able to get to the overlook. We were up close and personal with a bunch of mountain goats, including a baby!
Many Glaciers: We stopped here on our way out of the park. Beautiful views of lots of glaciers, saw the historic Many Glaciers Hotel, lots of horseback trails.
On our way out of Glacier we stopped at Two Sisters Cafe for breakfast and learned that the power was out. So we continued on to fill up the gas and their power was out too. Next gas station was 40 miles away in Browning, MT and we had enough to make it there (after the Big Arm incident we started getting gas more often!).
Got there and their power was out too and they informed us that the entire county was out. Luckily for our small, good on gas car (#hondafit), we made it another 75 miles to Choteau, MT and they had power! We knew if we need to be stuck somewhere or stay the night due to a power outage this was a better spot than Browning. We stopped here, got gas, made PB&J's and grabbed some ice cream. Also, Al tried to drive without the air conditioning to save gas in 100 degree weather. It lasted like 3 minutes before his pregnant wife was all YOU TRYING TO KILL ME. Air went back on stat.
Butte, MT
Where we stayed: Hotel Finlen. Don't let the lovely website fool you! The hotel was gross! It hadn't changed since 1970. The towels were easily 30 years old – you know, flat, itchy, old towels that most people use as rags and I cringed going to sleep on the bed!
Where we ate: Picked up salads at the grocery store. There was nowhere to eat – for real, we couldn't find a restaurant!
What we did: Nothing. Went to bed! This was the saddest historic town we've ever been to. It was a ghost town and was kind of a dump. The area seemed a little unsafe and we really had a hard time understanding what the draw was here. It ended up being a quick stop until we hit the road in the morning.
We got up early and headed out to Wyoming for the last state of our trip. That'll be posted tomorrow – stay tuned!