We like to workout. It's nothing new, we're both very active and have been our whole lives. We got engaged hiking a mountain, we've ridden a few 150 mile bike rides together, I ran a marathon and we have push up contests in the living room. I won the last one in case you're wondering.
When we moved to the city we were paying a combined $140 a month for our gym memberships. Totally absurd. When we moved outside of the city we were paying about $40 a month for memberships. Much more reasonable. Until that one day I showed up at the gym and it was gone. Completely shut down.
After much consideration of other gyms in the area and costs we decided it was just ridiculous to pay for it when we could easily be working out at home with the equipment we had. Over the years we've collected things here and there to work out with. Free weights, kettle bells, yoga mat. We both have sneakers and we have bikes, basketballs, soccer balls, tennis rackets and more.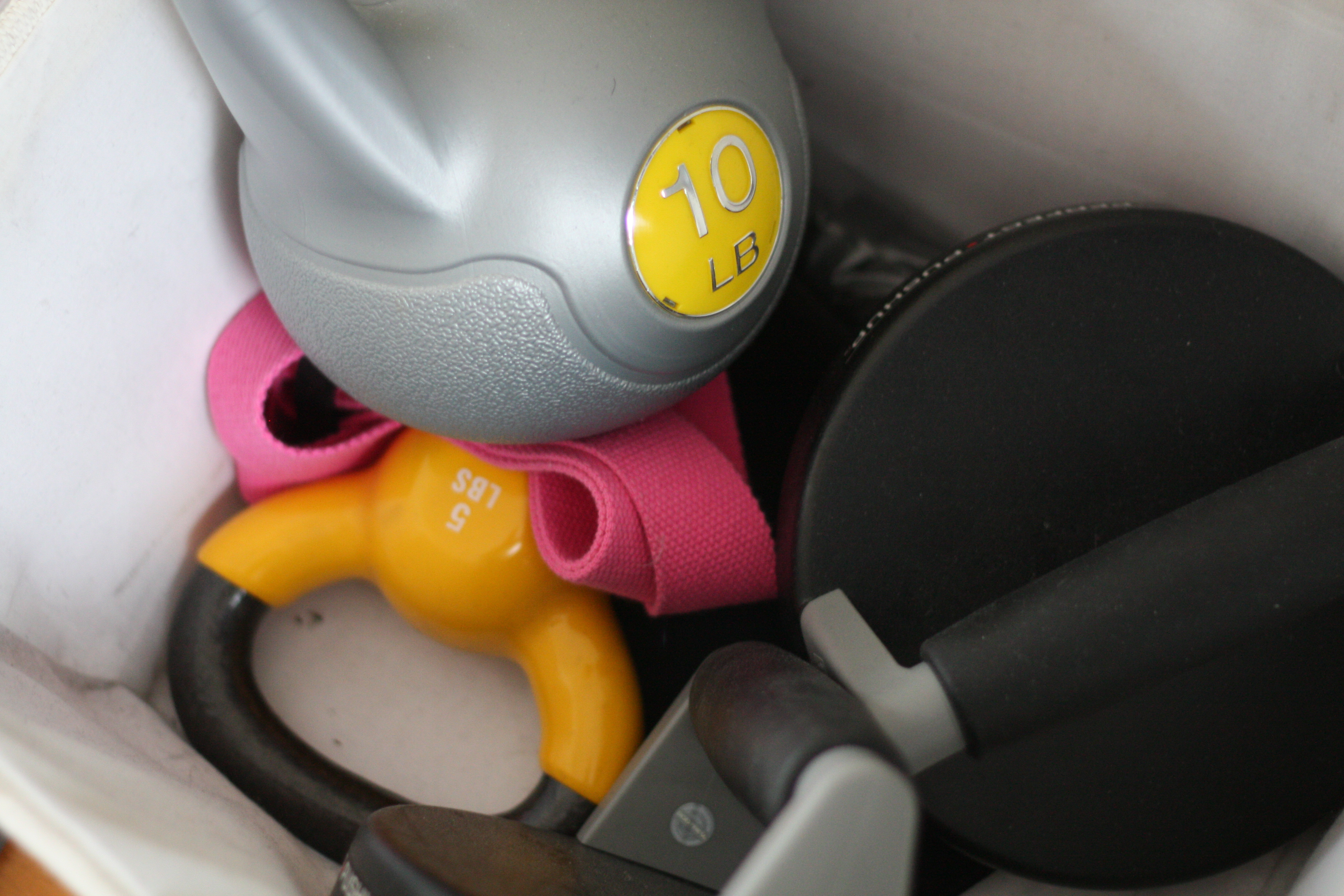 So we decided to give it a shot. This was the first time since I was 18 that I didn't belong to a gym. I was a little anxious, but in reality I was only actually using the gym about 2-3 days a week, which just wasn't worth the extra cost. We set up shop in our guest bedroom/office/workout room.
We've been working out at home for three months now and I've worked out more weekly than I ever did going to the gym. There's no excuses, the gym is always there now!
We have a wall where we hang up different workouts and we alternate through them all. I've found great workouts on Pinterest and we tear them out of magazines. I've found great yoga workouts on Comcast On Demand (our cable provider), I'm sure you could find the same if your cable provider offers it.
Last fall we stumbled upon a 40-year-old indoor Spin bike at a yard sale. We paid a bank breaker of $5 for the thing. It looks ridiculous, but is perfectly functional.
Even though you might put some money up front to buy equipment, it might save you money in the long run. And it's so convenient, we can work out any time of day, whenever we want to. There's not a ton of people crowding my space and I don't have to get annoyed when someone doesn't wash down their machine. Wash your darn machines people!!!
We've bought equipment inexpensively at Marshall's, TJ Maxx, Ocean State Job Lot and Target. The last kettle bell we bought at Marshall's was $12.99 and it even came with a free online subscription to Women's Health magazine. What a nice perk!
So, what do you think? Are you a faithful gym-goer? Would you rather workout at home? Are you jealous of that 40-year-old bike?