There are places I'm happy to spend and splurge on around these parts and then there are places I'm not. Like outdoor things. I don't want to spend a fortune because I'm not going to actually go out and cover furniture when it rains or put cushions away. And it's outside, it gets dirty, it's covered in bugs and bird poop. So this is a save situation.
I should also remind you that we don't like stuff. Clutter. We hate it. So this is not a place where you're going to find a decked out, over the top, outdoor makeover with rugs and pretend place settings and all those pretty things that I like looking at but not actually having. You will see though, a practical, functional space that could still use some TLC and will eventually get it. I hope you're cool with that.
We have plans in the future to rethink and restructure the deck/backyard space, so that was another reason I didn't want to spend a lot out there.
I searched around Craigslist for a long while looking for the right size table and chairs since our back porch is quite narrow. I ended up finding a table and two chairs for $30 which was the perfect size. We had two additional bistro style chairs already (that we scored for $1 at a yard sale last summer!) and those work fine to make it seat four people.
I knew I wanted an umbrella that had some sort of pattern on it. I had been eyeing this one (ours is out of stock, linking to the same style, different pattern) at Target for a few weeks and when I popped in one day it was 30% off, so we paid $35 for it. It's simple and still needs an umbrella base, but I just couldn't come to terms with spending $100+ on an outdoor umbrella. It's the right size for our deck, blocks the sun when needed and seems to be working out well so far.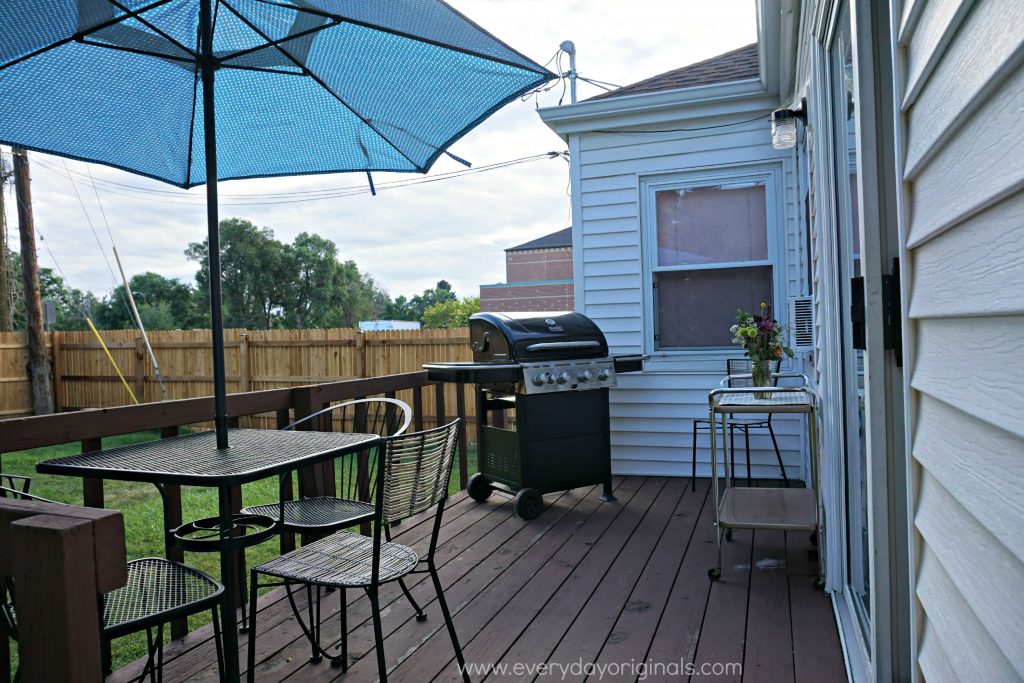 I also picked up this rolling cart for five bucks at the Habitat Restore. It was the perfect size for the space between the sliding door and the window and it's just the extra space we needed for when we're grilling or eating out on the porch. I might give it a coat of paint or I might leave it as it. I kind of like the old, beat up look of it.
Disclaimer for the front porch: the house is filthy, we know, it's getting power washed soon.
On the front porch, I really, really wanted rocking chairs but for the love those things are expensive. They remind me so much of my mother-in-law. She loved sitting on her front porch rockers. I decided to just be patient and wait for some to pop up on Craigslist. I almost caved and bought a very Cracker Barrel country-style looking set just because they were the only ones posted and I'm so glad I didn't.
I ended up finding these, more modern style chairs, for $75 total. That's a screaming deal since the cheapest ones I found were $100 each. These were brand new, not yet put together, still in the boxes perfect front porch rocking chairs.
We use them every single day, multiple times. We're always sitting on the front porch. I added this small side table, $3 at the thrift store, which got an oil rubbed bronze spray paint makeover. I want to add some pillows to the rockers too but haven't found exactly what I'm looking for yet…which I think is because I don't really know what I'm looking for yet. I want to get the front door painted before finding pillows so that it all ties together.
More on the progress of the porch construction later, but for now, we're fully enjoying the budget friendly outdoor spaces we've created.
The back deck furniture cost about $70 all in, and the front was about $80. Not bad for furnishing two spaces. I'm hoping to find an old park style bench and some Adirondack chairs for the backyard, but it's not really a priority so I just keep my eyes peeled when I'm thrifting, in case I stumble upon those.
How are you guys updating your outdoor spaces?