Lately I've been struggling with storage for my purses and they're just taking up way too much space shoved on the shelf in my closet. Since we moved in there has been an unfinished, boring and plain set of hooks in our hall closet (basically hanging from the ceiling they were so high, so not real practical). I've looked at it for the past 15 months and continue to think how I should really do something with it. Well, this weekend I did.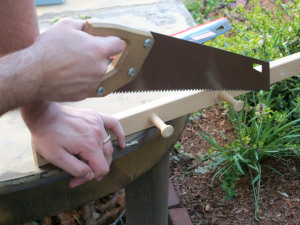 The pegs wouldn't come out by hand so Al sawed them off. I covered it with two coats of paint and while waiting for it to dry a bird pooped on it. No joke, it really happened. I screamed in disgust, then had to wash it off and start over. So after that small set back, I let it dry and added some great $1.00 pegs from Job Lot.
I hung it back up in the same closet, just much lower and in a more accessible place (please pardon the nasty unfinished walls).
I decided to hang it diagonally because it allowed the bags to hang a little smoother and lay a little flatter.
It works great for the space, everything is flat against the wall and it's still hidden away behind a closed door, my favorite type of organizing! If you have any other storing/organizing tips for purses please do share. I'm always looking for new, creative ways to store things, especially purses and bags because I think they're the most challenging accessory to keep orderly!