We've been working hard to get our yard and the outdoor areas cleaned up. I figure if we put a few long days and weekends in early on and then we can enjoy the yard and porches for the rest of the summer.
The back yard was our biggest project, ya know, since the previous owners had an enormous shed smack in the middle of it. Oh, and they had a sidewalk too. What? You don't have a sidewalk through the middle of your yard? And that fence, yes that's also being addressed.
We put the shed up for free on Craigslist to see if we could find anyone to come take it down. We did, a couple in a minivan and an SUV. It took them three days and multiple trips but they removed the entire shed and carted away nearly every piece of it. There were layers and layers of every possible building material you could imagine holding that shed up.
It really was the best solution and I'm glad it worked out. We didn't have to pay to dispose of the shed and it took no labor on our part either. We thought about relocating it, but we have another shed and a garage so we didn't need a third storage space.
When they were finished we were left with a concrete slab and a sidewalk to remove. After researching the cost to dispose of concrete in our area and other solutions we decided to hire out for it. For the two of us to remove that amount of concrete it would have taken a few days, a lot of labor and two frustrated, sore people. That slab looks harmless but it was about 6-8″ deep and the sidewalk was 4″ deep.
I called around to a few places and was able to have one come out at 6pm on a Tuesday night to give us a quote. He said he'd have everything removed by 10am the next morning and sure as hell he kept his promise.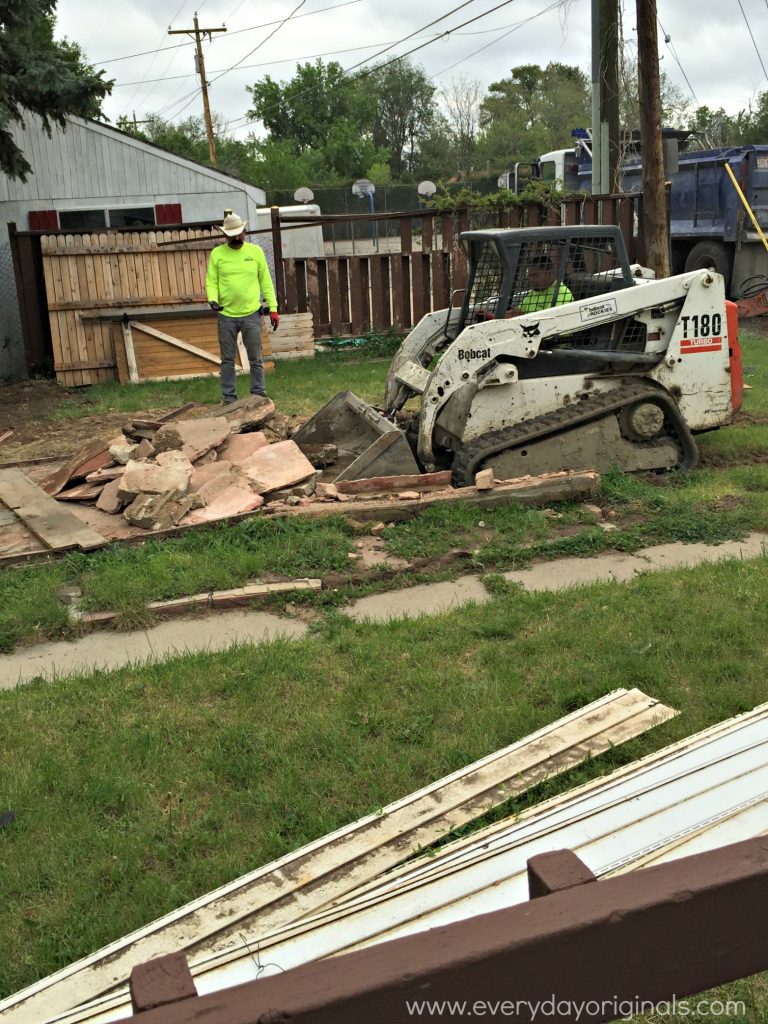 His crew showed up and they had the entire slab and sidewalk broken up and removed within 90 minutes. We then paid a little extra to have them fill the enormous space with dirt.
In the end we paid $600 for the concrete removal and $150 for the delivery of dirt. And it was worth every penny. Sometimes you just have to bite the bullet and realize when it's best to hire out. After calculating the cost to dispose of the concrete ourselves it would have been about $500-600, so the extra hundred or so bucks for someone else to do all the work was well, well worth it.
We love the view, now that it's not a shed, and being able to see the actual size of the yard. I can't wait to be able to have people over and have space to host without being all, pull a chair up on our sidewalk here. Ya know?! Next up is landscaping and making sure the yard doesn't turn to a mud pit (which it kind of already did because you know, all the rain I keep mentioning).