I'm psyched to share that I've partnered with Waste Management to bring you guys all the details on their popular product the Bagster Dumpster in a Bag! It's no secret that we have a LOT of work to do on this new house of ours. We're going to have a decent amount of waste and want to have the convenience of disposing of it with little to no effort on our part.
Enter the Bagster bag!
What is the Bagster Dumpster in a Bag?
The Bagster Bag is a waste removal solution for household renovation projects and home cleanups. In my opinion, it's the most convenient option! They do all the work. No loading up your vehicle, no trips to the local dump, no filth to deal with and no time wasted on your part.
With capacity to hold up to 3,300 pounds, 900 square feet of carpet, 47 sheets of drywall and more, this thing is a beast! It's a durable, woven bag (think like a tarp only much, much stronger and more durable) that is capable of holding large and heavy items such as doors, windows, cabinetry, carpeting, bathtubs and more. It's smaller than a full-sized dumpster, which is incredibly helpful when you're only renovating a room or two at a time, versus your entire home, and costs significantly less than a dumpster as well.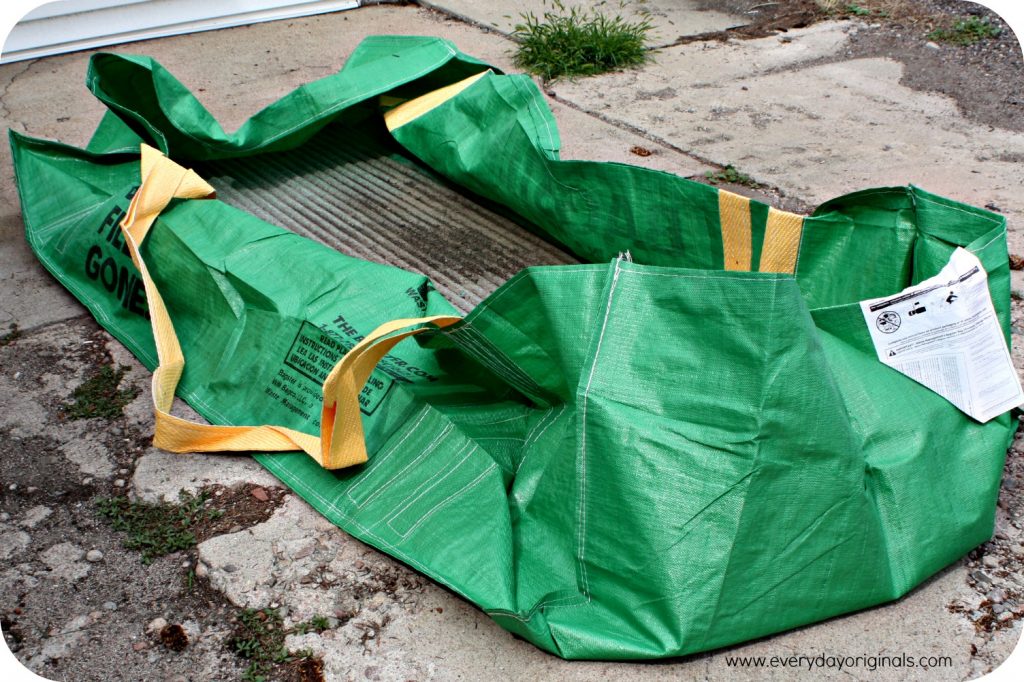 How does the Bagster Dumpster in a Bag work?
There's a reason Waste Management says BUY. FILL. GONE.®! You can purchase the Bagster bag at local stores in your area for around $30. There are no time constraints, so you can take your time filling it up to its max capacity. When it's full and you're ready, you schedule and pay for pick up and it's gone within three days! Pick up rates vary by location – our area is $99, which is a steal since bringing just the carpet we removed to the local dump would have cost us well over $100.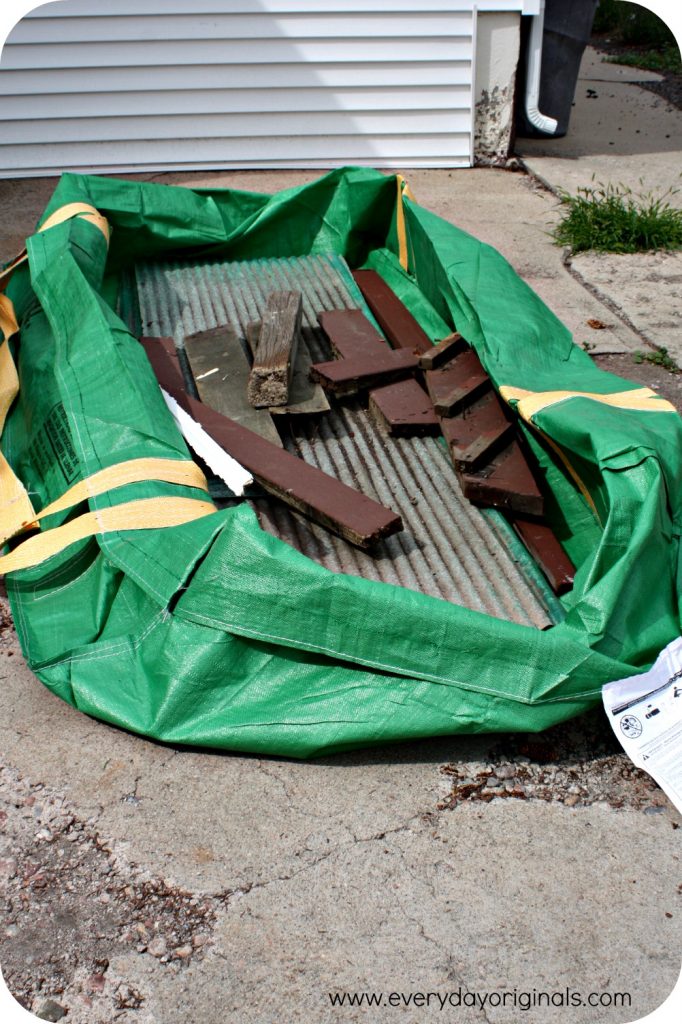 We already had a pile of waste collecting in our back shed when the Bagster bag arrived. We got it set up, which was incredibly easy (my 8-year-old niece helped me!), and started adding to the bag. We're planning a big work weekend around the house and will most definitely be filling that thing up! As of now we primarily have carpet to fill it with, which was a huge undertaking for us.
I'll be back in the coming weeks to share our experience with actually filling it up, using it to its max capacity and the removal of it by Waste Management. So far I love the convenience and I'm thrilled to be sharing our experience. Because, as you all know, I'm a sucker for convenience. To learn more or find locations to purchase the Bagster bag in your area, visit www.thebagster.com. And don't hesitate to reach out with any questions should any arise. I'm happy to field those as well!
Note: Waste Management provided us with the Bagster bag to review. However, as always, all opinions and thoughts are my own on the product and service. I only recommend products that are truly helpful to us!