We love our new place and it fits our needs perfectly. Though, what it lacks is closet and storage space. So we've had to be as creative as possible in using every square inch of space.
At the top of the stairs is a small vertical space that I knew we could use for something.
In wanting to not clutter the two small closets we have with purses, I decided to hang some hooks at random. I hung enough for most of my purses and bags and there was still a little extra space for the vacuum too. Using a spring tension rod and two drapes we already had, we created a curtained off space.
It provides the hidden storage we need perfectly, especially for things that aren't in use constantly. I mean, I'll admit, it looks like complete chaos but it's controlled chaos, I swear.
Another way we used a very small space, as in 6″ wide small space, was in the bathroom. There's no linen closet and no extra space for storage. To the right of the sink and vanity was 6″ of space and I was determined to make it work for extra towels and my hair supplies and tools. Don't mind the completely separating wall there…
Using an L bracket and a scrap piece of wood Al created a little shelf between the wall and vanity.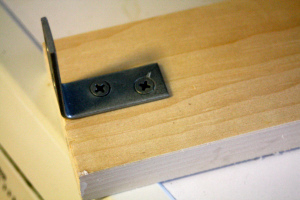 For $5 each I found these plastic-y woven beach bags. I cut the straps off of each of them and they slid perfectly into the space.
The top one holds my hair supplies and the bottom holds extra towels rolled up.
The bottom one easily slides without any problem. We even have the bathroom scale wedged in there too and it doesn't obstruct the basket movement.
Have you made great use out of a ridiculously small space lately? Every inch counts in small homes so please share if you have. I'm always looking for more ideas. I love utilizing vertical space so if you have any ideas for that too let me know!