Back in March, when my cousin came home from overseas, we headed out to the store to pick up some poster board so I could make big colorful signs to welcome him home. It was almost 9 pm and pitch black when my dear husband eye spied and amazing piece of furniture on the curb, just a few houses down from ours. There was another lady in her Volvo approaching the same piece so we had to act quick. He jumped out, gave it the once over and threw it in the back of the car. FREE. My favorite word in the whole world.
Let me tell ya though, this thing was in rough shape. But just the type of rough shape that I like. That's some sort of oil stain on the top and I had to clean it, like scrub clean the whole thing, at least three times.
And there was definitely still some dirt that we just painted over and pretended it wasn't happening. We both got splinters from this project too. Goes to show it was a good one. Al may or may not still have some wood in his hand.
After we really scrubbed it down, we sanded it. Kind of lightly, but very thoroughly. I also went around and made sure that it was all smooth and there were no more slivers sticking up.
I decided to go for a spray primer just to simplify the process. Though, more and more I'm leaning towards spray primer. It's just so easy and clean and easy. We used a Rustoleum brand primer.
Al primed the whole thing and I made him wear a mask. That's my new thing, mask wearing while spray painting. He fought me on it but I won. He primed and we let it sit for a bit before painting.
The paint was a free sample can that I got at an Ace Hardware. Whenever I have a free sample of paint I always go get it before it expires. I'll usually get it in a neutral color because I know I can always use it for something. This one was Benjamin Moore's Silver Half Dollar. Only problem with the samples is that it's always a flat base, so I might add some sort of gloss to this when it's done.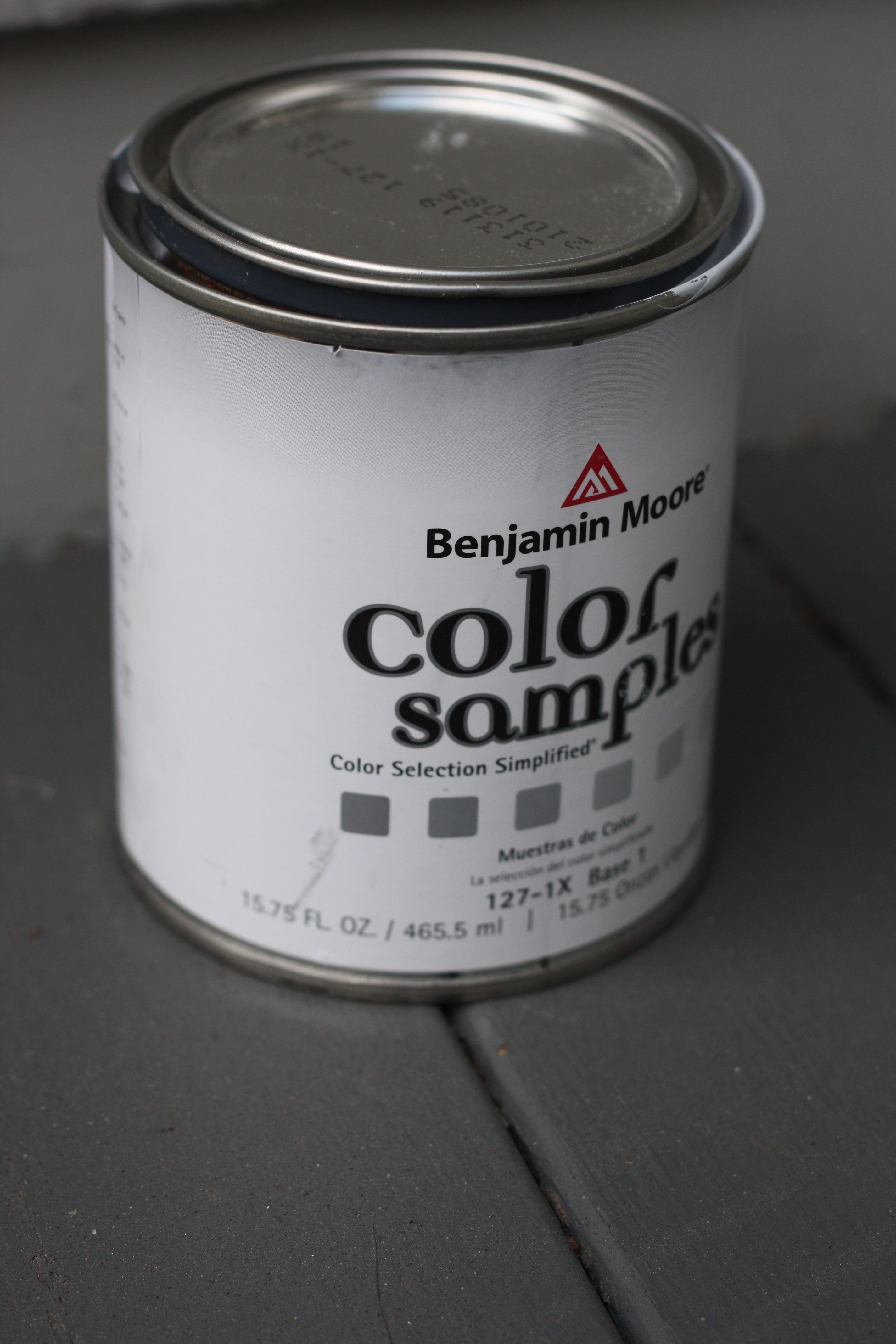 He gave it two nice smooth coats of paint, letting it dry in between and now I'm just letting it set for a bit before adding better knobs and putting it into place. I'm thrilled with the way it turned out and it's going to be perfect in our living room.
And in case you were wondering, when we went to the store to get poster board they had none. So I used a card board box and the backside of wrapping paper for posters instead. But, I wasn't even annoyed at the lack of poster board because all I could think of was my sweet piece of free furniture in my trunk!