For nightstands in our bedroom I wanted something with drawers, but didn't want anything huge or too bulky. It's a small bedroom so I figured we could use the extra storage with the drawers (although, it's been 4 months now and all the drawers are still empty…so I guess we didn't NEED the extra space!).
I love the price of the IKEA Rast 3-drawer dresser – at $34.99 you can't go wrong. It's unfinished, solid wood so you can do whatever you want to it. It's small and narrow, so doesn't seem too bulky as a nightstand.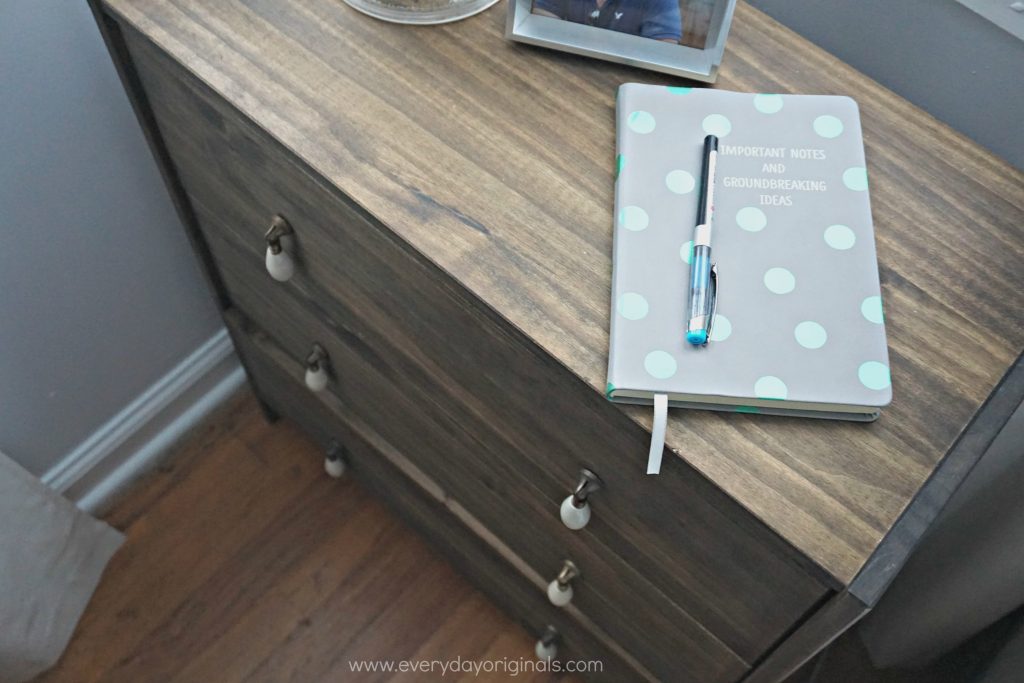 I wanted to keep them simple. I thought about doing some amazing IKEA hack with them but in the end I just wanted the look to be simple. Didn't really want them to be the focal point of the room.
We gave them two coats of Minwax's Jacobean and that was it. We didn't use a protective finish on the top because we like the rustic look of it getting dinged up. And, we don't usually have drinks in the bedroom so I'm not worried about water stains or anything.
For drawer pulls, the rast comes with cute little wood ones which would have been fine, but I had the drawer pulls from the dressers in our apartment sitting in a drawer and I love the added fanciness they give an otherwise dark, rustic looking piece.
I also thought about adding legs, but the height is actually perfect with our bed, so I think we'll leave it for now. I love a good IKEA furniture makeover. Have you guys done anything with the IKEA Rast? It's such a great, versatile piece. Nightstand, dresser, side table, entry table, console table, etc.!