I had to share with you guys these amazing kid birthday party creations. Bridget and Carl, who you met in my Flor tiles post, made these things! The train was from their sons party 2 years ago and the construction vehicles were from their other sons party a few weeks ago.
Both are made from large boxes. Carl mentioned that some were dishwasher boxes from a local appliance shop. He just popped in and asked if they had any to spare. I'm sure stores like that are thrilled to have boxes taken off their hands!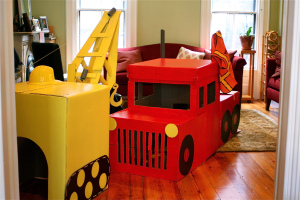 Are these things amazing or what?!?! First they drew out what they wanted and then went ahead and painted them. I love that they stepped it up this year with the crane being a moving mechanism!
I love, love, love the creativity here. The kids had a ball and the adults were certainly impressed! I have to admit my photos of the creations are not the best. I find when I'm at their birthday parties I spend most of my time staring at the boys admiring how cute they are and how I can't believe that they're X years old already. They really are so cute and I really can't believe that they're 2 and almost 4!!!