I had been seeing these home state tee shirts all over the place. Online, Pinterest, in stores, etc. I took one look and thought that there must be a way to DIY one. So I did. I decided to outline the steps below to make it easier to follow. It was actually quite simple, took a lot of focus, but overall was simple.
Supplies: cotton t-shirt (mine was one I already had, it was one of the vintage tees from Old Navy), fabric paint, small paintbrush, Ziploc bag, iron, ironing surface
1. Find an outline of the state you which to use. I forget how I found mine, I think I either googled it or used clip art.
2. Open the image in a word doc and using a text box add the word home using whatever font you'd like. I then printed mine in three different sizes to see which I liked best against the shirt.
3. Turn your iron to medium heat, no steam. Cut your Ziploc bag on both sides but do not cut the bottom of the bag. You should have a long rectangle once the sides are cut. On your ironing surface place the Ziploc bag down flat and place the state print out directly on top. If the plastic bag is larger than the print out I suggest trimming the sides of it so they're both the same size. Otherwise you risk burning some of the bag to your iron and that's a pain to clean.
4. Gently iron over the paper, back and forth, until the plastic bag has melted entirely to the sheet of paper. Shouldn't take more than a minute but he sure to never hold the iron in place. Ya know, kind of the same deal when you iron your clothes.
5. The sheet of paper should gently pull off of the ironing surface (I used a piece of scrap fabric because we don't have an ironing board). Using very fine tip scissors or a razor blade, well, actually I should re-phrase. If your state is Massachusetts and there are nine thousand nooks and crannies to cut around you'll want some fine tip scissors. If your home state happens to be Colorado cut away with anything, four nearly even sides is a piece of cake. Okay, back to the cutting. Gently cut out the inside of the state so that you end up with the outline of it. I didn't cut out the Vineyard and Nantucket. Sorry if that offends anyone.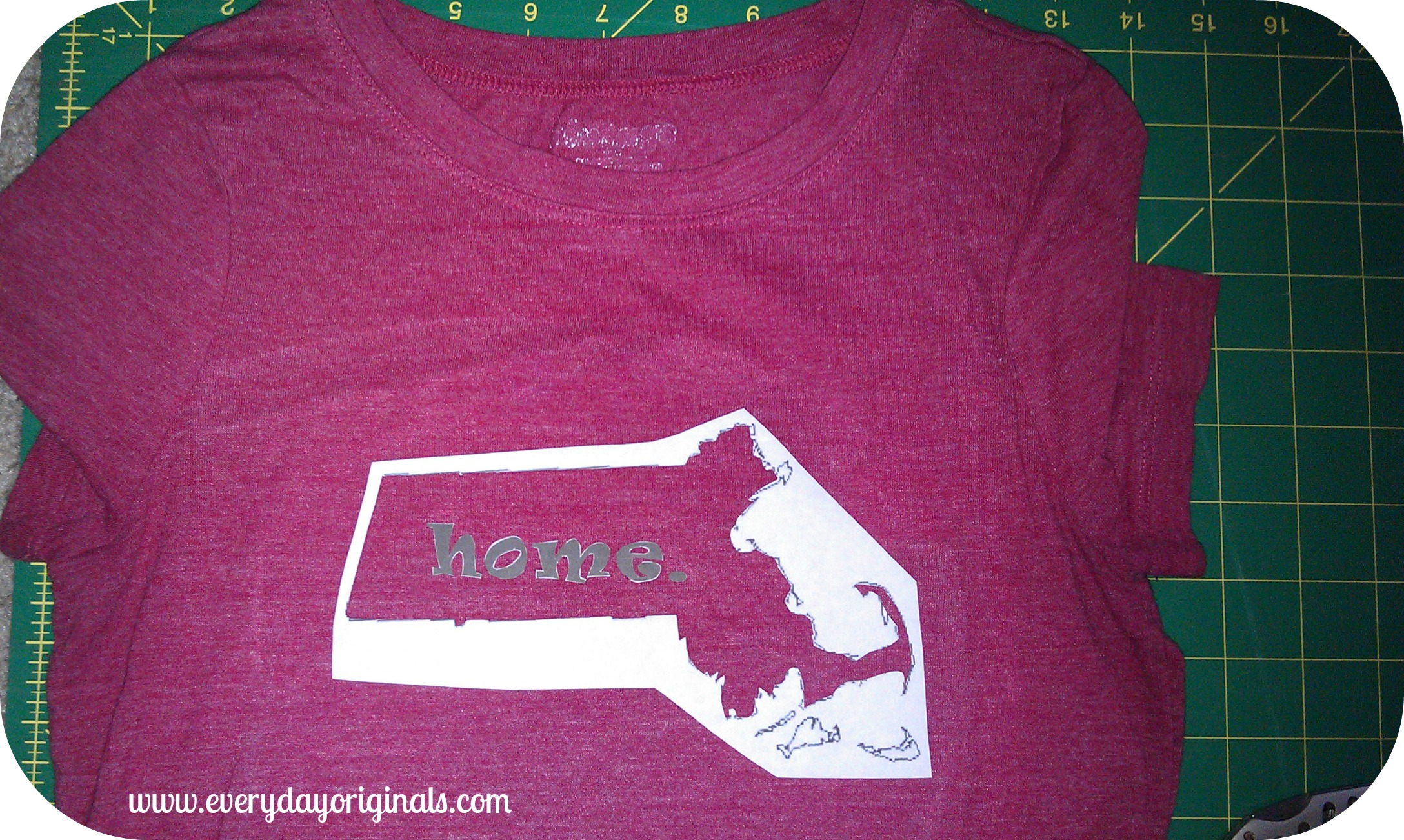 6. Once you've cut the inside out you can now cut out each of your letters. Once all are cut out select the placement on the t-shirt for where you'd like the state outline to be. With your iron still on medium heat iron over it so that it'll adhere to the t-shirt. Do the same with the letters, one letter at a time. I found that there was more control over the placement of the letters when I did them one at a time.
7. Paint! First be sure to put either a paper bag or piece of cardboard inside the shirt so the paint doesn't run through. Using your fabric paint being to gently fill in the outline being careful around the edges as you don't want the paint to bleed under the template. Around the edges of both the letters and the state outline I tried to only paint with the edge, not against it. Follow the instructions on the fabric paint bottle as far as dry time and additional coats. You can do as many coats as you'd like, mine ended up being three. I like that some of the red is still visible through the paint.
8. My fabric paint said to wait three days to wash it. I actually waited five because I didn't have enough laundry to do on day three! It washes and dries just like any ordinary t-shirt.
I love the way it came out. This was one of those projects that I didn't get too excited for because I wasn't sure how hard it would be and if the results would be great or not. It's a hit or miss project and in the end I was psyched about it! It's my favorite weekend tee and I wear my home state proud!