I love Instagram. I don't know if it's the photographer in me or the fun of seeing other IGers posts, but I love it. However, it's so rare that anyone ever does anything with those photos. And if you're new to my Instagram feed you'll find that I love clouds. Love them. Part of me thinks it's odd, the other part thinks I don't care because nature is so calming for me.
I take loads of photos but don't do anything with them. So, I decided to make coasters with some of my Instagram cloud photos. I've made coasters in the past so I used my old tutorial and tweaked it a tad.
You can find the DIY coaster instructions here. However, for the Instagram coasters, you have two options. You can have them printed at a photo place (technical term) or print on copy paper, with your printer, like I did. You can't save IG photos due to privacy restrictions, so I took a screenshot of MY OWN photos (don't go stealing someone else's photos), cropped, sized and printed.
The way I print is by inserting all the photos into a Word document and then resizing the images in Word. I sized these to be 3.25″x3.75″. I then printed and cut.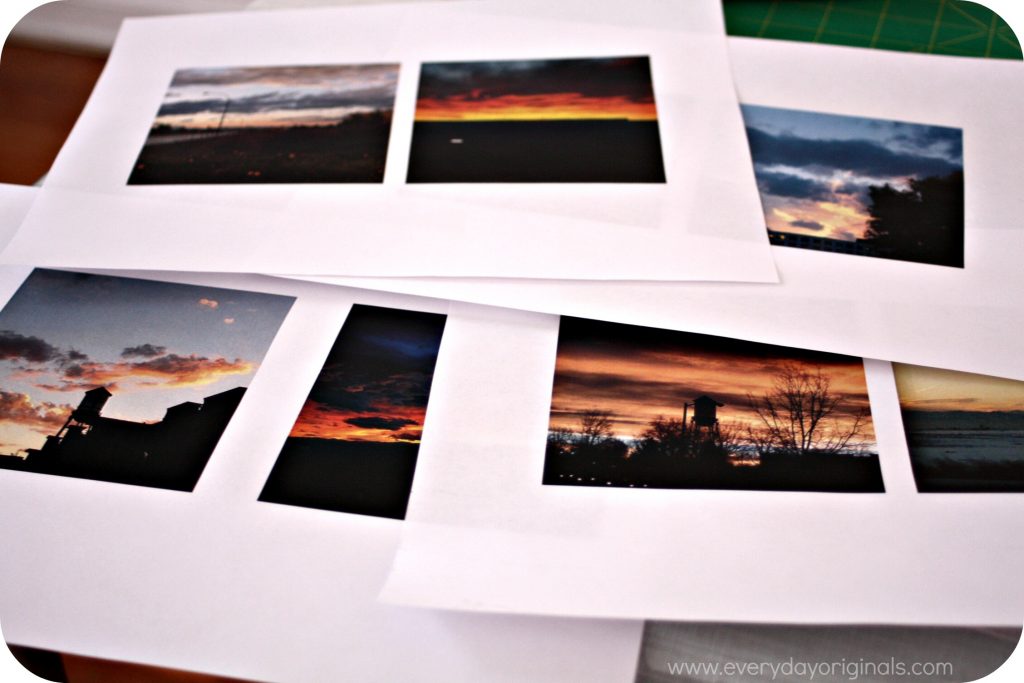 The intention is to have them look like Polaroid photos. Once I had them all cut I followed my Beer Box Coaster tutorial. The one difference is that I only applied Mod Podge to the back of the photo, not both the photo and tile (as I did in the beer box coasters).
By adding Mod Podge to both it became to goopy and the photos would wrinkle because the paper was so thin. Once the Mod Podge was applied I made sure to press really hard to ensure there were no air bubbles. I let dry for a few hours before adding a layer of Mod Podge over the entire tile and photo and spraying with a protectant sealer. I didn't add a protectant to the beer box coasters because they were overall just much sturdier. I used Krylon's Acrylic Coating spray (outside, in a very ventilated area).
I let those dry for another few hours and then they were done. I love how they turned out. They're not perfect and that's what I love about them. I can't cut in a straight line (or walk or drive or run or do anything) and I love those imperfections about them. Now I just need to think up ideas for the rest of my Instagram photos!