Makeup is nasty. And the brushes are too. I'm trying to get better at washing the brushes more regularly – supposedly they should have a weekly cleaning (!) – and replacing my makeup more frequently.
Here's my go to simple, DIY brush cleaner recipe. I try to wash them on a day when I won't be needing them and I wash them first thing in the morning so they're dry by the next morning.
DIY Makeup Brush Cleaner Recipe
3 tablespoons distilled white vinegar
1/8 teaspoon Dr. Bronner's Unscented Soap (I go with unscented because I don't want my brushes smelling like something)
2-3 drops olive oil
In a shallow bowl mix the soap and vinegar together. Add the olive oil and mix everything together.  If you don't have an eye dropper or syringe to drop the olive oil in with I'd say skip it. You risk adding too much and then having oily brushes.
Once mixed start out with one brush and swirl it around the mixture multiple times, pressing it into the bottom of the bowl to remove everything that's in the brush. Rinse under cold water until the water runs clear.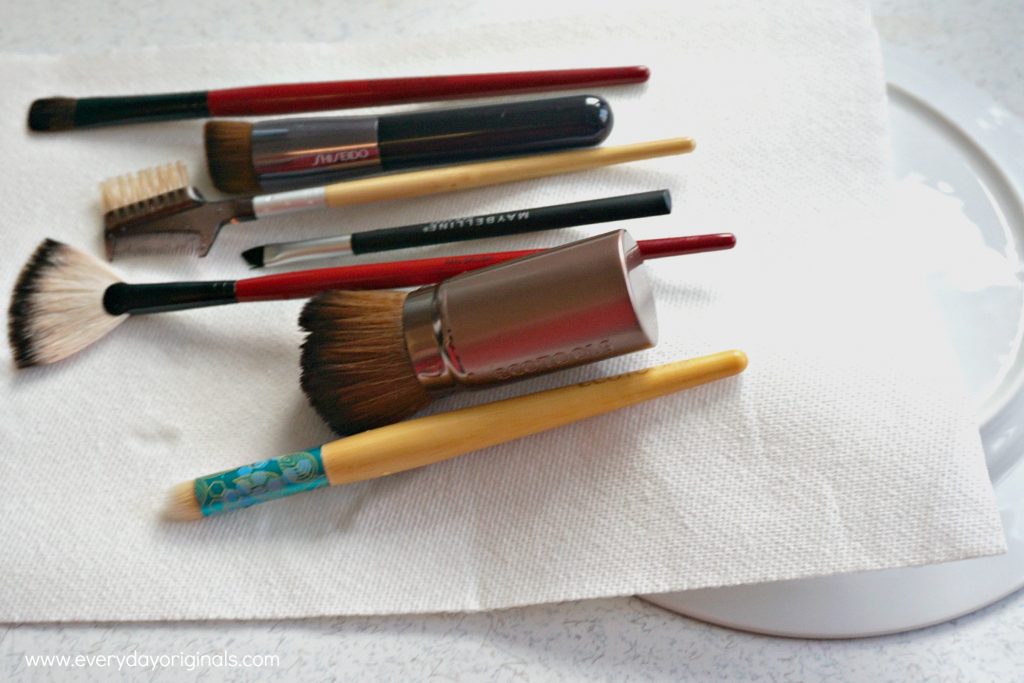 Pat dry with a paper towel and then lay the brushes out to dry, at an angle, to allow the water to run out of them. Depending on how dirty your brushes are you may want to whip up a bowl of the mixture per brush, or for every 1-2 brushes you clean.
Washing them every week will never happen for me, but I don't wear makeup every day. I am going to try and get in the habit of washing them at least once per month to make sure all that grime and bacteria isn't lurking around.