When we bought this house we knew the kitchen was going to need a full gut job. It has metal cabinets that are disgusting and rusting in parts and not functional for our needs. For instance, there are no visible drawers, all of them are behind a cabinet door. And I mean you all know me by this point, my middle name is efficiency and that's not efficient. At all.
As a reminder, this is what we started with (photo from the listing). It's amazing what a wide-angle lens and Photoshop can do, eh? Those cabinets were never that brown or bamboo looking. They've always been faded gray. Oh and that fridge, that was also brown from dirt, not that white.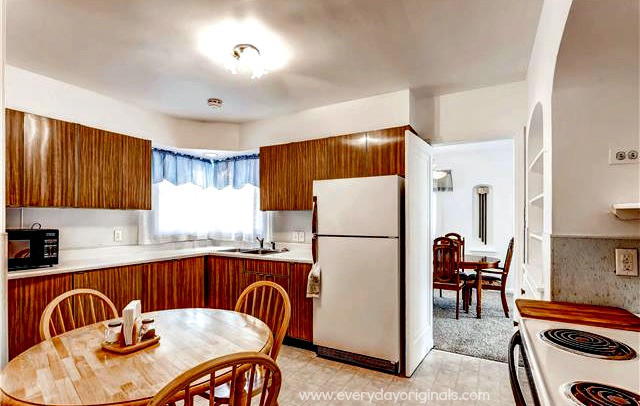 A few people have tried to convince us that the metal is back in style, which maybe that's true, but it's not our style and these bad boys are just not in good condition.
We did buy new appliances when we moved in. Mainly because the ones we had were not energy-efficient at all, we got them during a great sale at Lowe's and we figured it's a few thousand less that we'll need to spend during the full reno. We only have a fridge and stove currently, but plan to install a dishwasher too.
The day we moved in we had purchased the GE Artistry line on super sale from Home Depot. We loved the style, especially with the era of the house. However, after living with them for some time we realized two things: the oven was not self-cleaning and would. not. come. clean. and we kind of hated the freezer on bottom setup of the fridge. I know, it's the thing right now and everyone supposedly loves it, but together we really didn't like it. The fridge was also enormous, more than our needs. I'd rather have a smaller fridge in the kitchen and an extra fridge or deep freezer in the garage or basement if we ever need the added space. So we threw those bad boys on Craigslist and decided to get something different.
We also made the switch to a gas range once we realized there was a capped gas line behind the stove. We got a great deal on our current appliances and I negotiated a free ice maker, so we'll get that setup once we reno the kitchen too. We're both much happier with the simple, freezer on top, one door refrigerator, fits in the space fridge we now have.
But back to how we're making the space work for us. The full kitchen reno likely won't take place until 2016ish for a few reasons. We're paying cash for all our renos so we're saving up what we'll need, and it's always good to live in a space, like a kitchen, before gutting it to best understand how you want the space to work for you.
In the interim we're making it work for us the best we can. It would work so much better if there was a dishwasher because my current one, whose name is Al, has quit and been fired multiple times. But we'll keep waiting for that dishwasher.
We currently only use the upper cabinets because, well, we only have enough things to fill those ones and the lower ones are gross. We do use the one under the sink for cleaning supplies and garbage bags. We lack counter space so we're using the made over rolling cart as added space for that to house our coffee and tea setup.
We use a three drawer Rubbermaid plastic contraption for our silverware and everyday utensils, because again, the drawers are all behind closed doors (and nasty).
We have a huge built-in storage cubby in the kitchen that has been helpful for bulk items that were originally living in the garage. Ain't nobody got time to run to the garage for a roll of toilet paper. Using a spring rod and a $3 thrift store curtain cut to size, I concealed the space (sorry for the early morning, iPhone after photo there).
The other side of the kitchen has an awesome built-in that will definitely stay, but serve a different purpose in the future. Currently it serves as our pantry and the top drawer holds less used utensils and kitchen gadgets, extra water bottles and lunch bags. The other drawers are mostly empty, with the exception of a few serving trays.
So in the moment we're making it work for us, the best we can, and it seems to be working out well. We have a better sense of how we want the flow of the space to work in the future and the amount of storage space we actually need.
It's certainly not glamorous at all, but it's functional and makes it that much more exciting to start working on the kitchen in the future.