Today is the last day of World Breastfeeding Week, so I felt it appropriate to share some thoughts.
I never thought I'd be someone to write about breastfeeding. It's a simple concept – your kid needs to eat, you feed him. Breastfeeding was hard for me. REALLY hard. We struggled with latch and I was in constant pain for almost three months. We visited the lactation consultant time and time again. I had ultrasounds for lumps, Louie threw up blood, I was engorged for months, I had mastitis twice, plugged ducts more times than I can count, supply issues – both oversupply and under. I worked hard for it. I knew I could give up at any time. But it wasn't an option in my mind.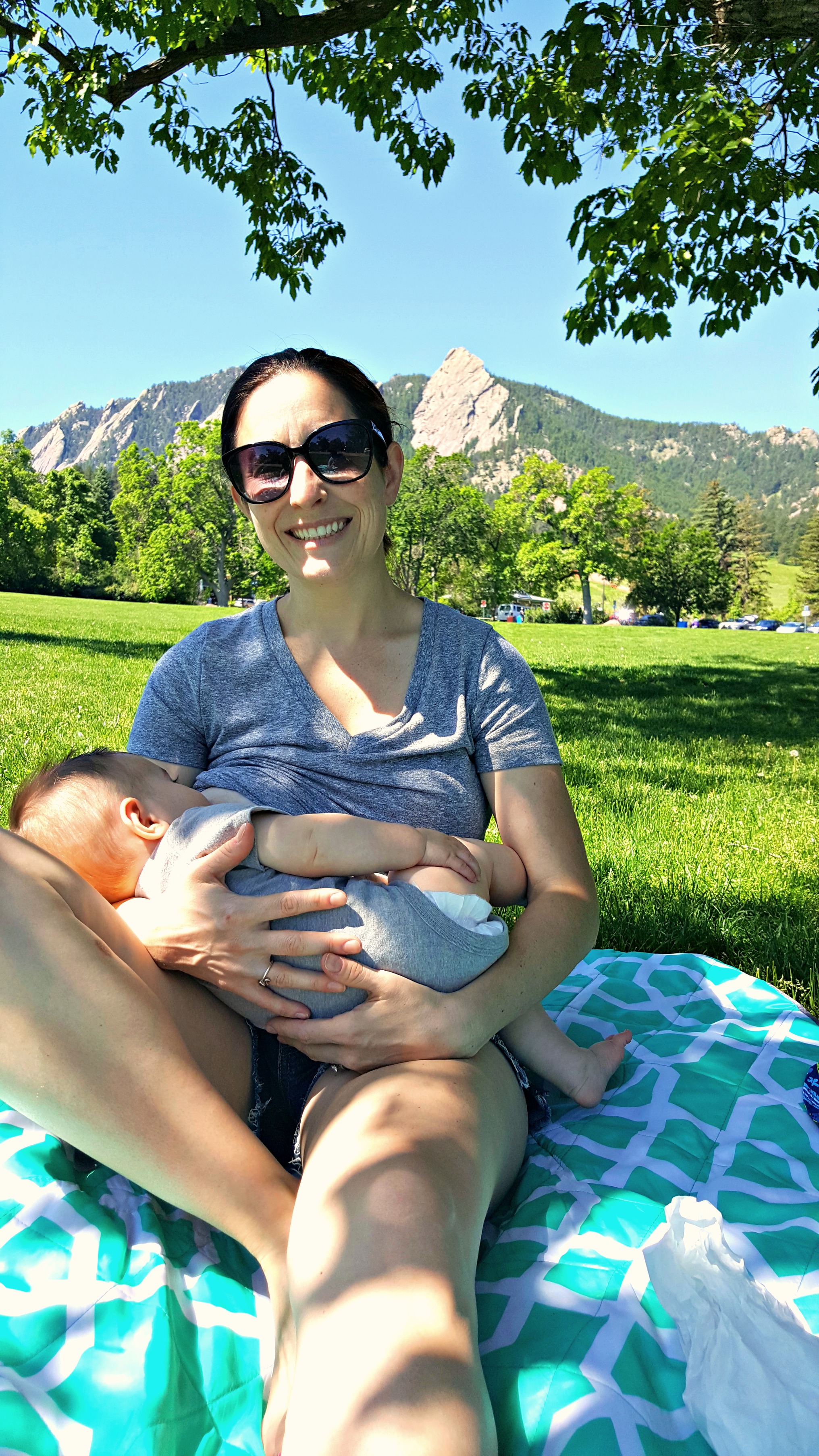 I recall clearly the conversation with Al. Him trying so hard to support me, comfort me. Me sobbing my eyes out to him wondering why I couldn't figure it out, wondering what I was doing wrong. I remember the compassion in his words so clearly, "it's okay to give up," words that were likely hard for him to speak because we both were such huge supporters of breastfeeding. Even though he knew I wasn't going to, he also knew I would suffer through anything until I got it right. And that's exactly what I did.
I never gave up. And around four months postpartum it all finally worked itself out. And because of the struggles I endured – the tears, the pain, the stress, the frustration, the anger; the joy, the bond – I find myself writing about it today.
Breastfeeding is amazing. I am not ashamed to breastfeed my kid in public. I don't find the need to cover up, but I also don't find the need to let my boobs fly around freely either. I'm not afraid to pump in public either, I've done it in coffee shops and airports. My kid needs to eat. I've only once encountered someone who seemed uncomfortable as she kept looking at me and shaking her head while I nursed in a restaurant. But really? You shaking your head at me in disbelief isn't going to stop me from feeding my kid. If you're unhappy with my breastfeeding, choose to look away. But my kid needs to eat.
So what does normalizing breastfeeding look like to you?
To me, normalizing breastfeeding is being able to do so in public, without comments or stares from others. Having dedicated breastfeeding and pumping areas for moms who may not feel comfortable doing so in public (we've made great progress on this as a society, still a long way to go, but we're moving forward). Having dedicated space at your place of work to pump when you're away from your baby. Having the ability to pump from the car or a campsite (car adapters and battery packs!).
Recently I was pumping in an airport that didn't have a breastfeeding/pumping specific area. So I was pumping in the women's restroom, over one of the changing stations. A woman asked, "Are you pumping?" I said yes and told her it was my first work trip without my baby. She said, "good for you momma, it's really hard, but so worth it."
In that moment I thought to myself, it IS really hard, but it IS worth it. I worked hard to get to where I am. I spent countless days and nights crying, working to breastfeed successfully and ain't nothing going to stop me now. And to her, the act of me pumping in an airport restroom was totally normal. Celebrated in a way.
It's such a simple concept in my mind so I struggle to understand why anyone would not think of it as normal, or think to judge someone feeding their child. So, what does normalizing breastfeeding look like to YOU? I'd love to know. And I welcome mature conversation on the topic.
And ironically, I'm writing this during my 4am pumping session at the dining room table. A regular occurrence on weekdays to ensure I have enough milk for the day :)