These and these are both really cute, really expensive camera bags. Tons of different styles on both sites and they're all great. But, it's not in the budget right now for me to get a new camera bag just for the heck of it. I have two perfectly good ones, but I love the idea of being able to use this as my camera and my purse.
For weeks I had been scouring through consignment and thrift stores. And then I found this:
And it cost me:
It was the perfect size and the straps were long enough that they would be comfortable on my shoulder with all the weight in it.
The first thing I needed to do was figure out a way to cushion the inside so that my camera had a nice soft surrounding. After I chose the fabric that I wanted it lined with I started looking around for what else I could use as cushion before resorting to buying something. Turns out we had about two extra yards of orange fabric from Al's 2009 Halloween costume that I have been dying to either use or get rid of.
The orange fabric was a heavy-duty, soft lined cotton, and clearly, was just what I needed.
Inside the bag I measured the height, width and depth of each side and cut pieces to size of the pretty fabric and the solid orange.
I had 4 layers of the orange fabric and one of the decorative. I sewed all of the pieces together to make a cushion that fit perfectly into the bag. I also sewed two strips of velcro onto the decorative fabric on each of the long sides of the bag.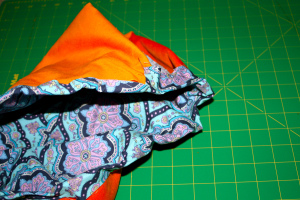 I then hand sewed the insert to the lining of the bag. You can see how the zipper pocket that was already in the bag is still usable.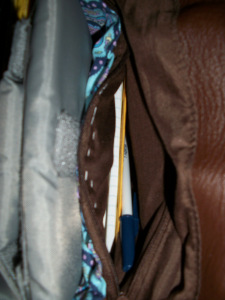 I removed the camera dividers from one of my other camera bags. Since they already had the velcro on them I simply had to place them into the bag and arrange them how I wanted against the velcro I sewed in on the sides. Final product: a functional, camera bag that holds all of my regular purse items too. Items that are in the bag: wallet, cell phone, small makeup bag, camera with lens, telephoto lens, battery charger, lens cleaner, small notebook, pen, small point and shoot camera and USB cord.
Here it is all closed up and ready to go:
All for a grand total of $5.49. I love it. Love, love, love it. I used it last weekend for my brother-in-laws graduation celebration in Boston and it was perfect. Not too big, not too small. You can also see in the photo that I have an extra divider in there, just in case I ever need to rearrange. It's perfect, and for the time being makes me feel great about not spending a whole lot more on it!