It was months ago when Al painted the bedroom but it took a while to pull the whole thing together. I wanted the bedroom to be a calming color, but not a bright calming. I think we did a good job of finding the perfect one.
One of my favorite things is how much the white trim pops against the color. Also, I should note, it is incredibly hard to photograph walls and paint to really show an accurate color.
Here's where we started:
I love a good crisp white trim. Makes everything look so fresh. For the walls we went with Behr's Ice Sculpture. The walls were white before so coverage was pretty easy. It took two coats and then a few touch ups after the fact.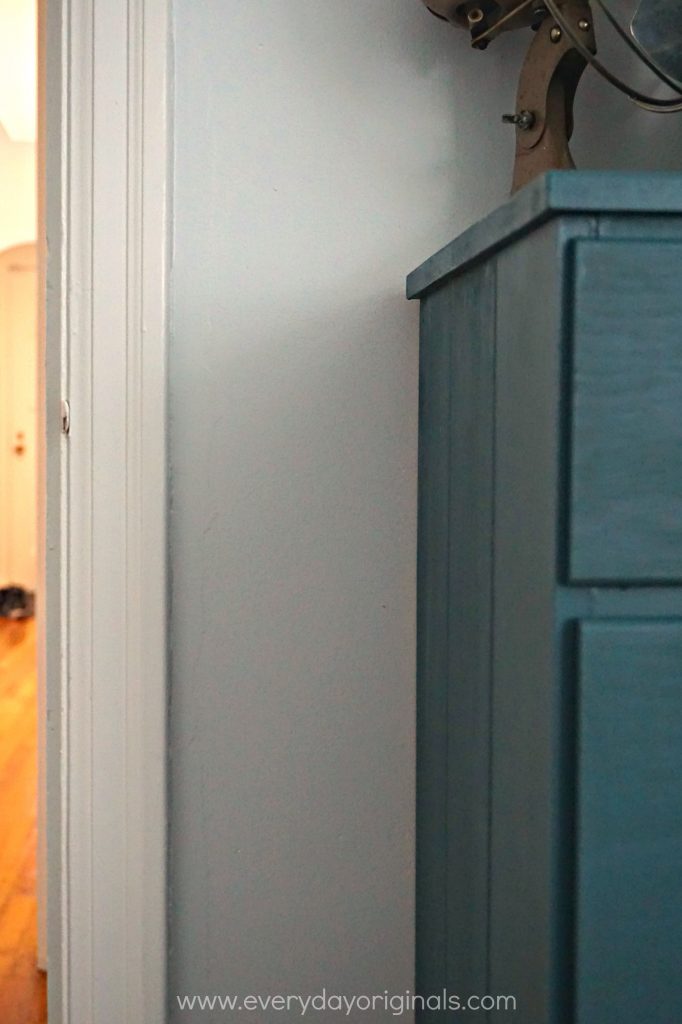 Other thing that I love is the contrast between the dark teal dresser and the white/blue of the wall color. I mean, I love anything that's blue and green, but put them all together and I'm a happy gal.
Al's just doing some electrical work below, but it's a great depiction of the wall color. You're probably wondering if we have secret passage ways through our house from that little door below on the right. I totally wish. It's just access to the bathroom plumbing and we cover it with a laundry basket.
On a different note, how many of you clean the inside of your closets? I was cleaning out our reach in bedroom closet just after the new year and was appalled at the amount of dust and filth. I was going through our clothes and shoes and then went on this rampage, pulled everything out and deep cleaned that bad boy.
I recommend you do it too. You'll be surprised what's living in there.
Stay tuned for more bedroom updates this week!
P.S. Right as I was about to push publish on this post I realized I already posted about the paint color. Whoops.  Publishing anyway!