First off, apologies for the blank email post that occurred this morning. The server had a small meltdown. Here's the real post…
It only seemed appropriate for February's Pinterest project to be Valentine's Day related. We don't really celebrate Valentine's day because our wedding anniversary is a week later, so we've given February over to our anniversary. But, that doesn't mean I don't still love the cuteness of it, especially with kids.
Al and I have one niece; his brothers daughter. She's six years old and we love her to pieces. But, she lives in the cheese state, so we only get to see her a few times a year. I haven't seen her in almost a year, which pains my heart. Al got to see her in September. We do our best to talk often, share videos and photos and send mail. Who doesn't love getting snail mail?
Instead of sending her our usual Valentine card I wanted to send her something to open. I stumbled upon this craft/gift on Pinterest and got to work immediately after, I knew it was perfect.
It's a little cookie making kit. I gathered my supplies, which using coupons and sales, only came to about $6 total. I found the tubes for the sprinkles at a craft store. They're in the bead section.
I had the other supplies I used; construction paper, card stock, ribbon, scissors, glue and markers. I started by wrapping the box of cookie mix. To simplify, I didn't wrap all sides, just the front and back.
I then cut a strip of paper, the long way, from a sheet of construction paper. I laid the four tubes of sprinkles on the box and folded the strip of paper to make slots for the tubes to sit in. I glued it down using a glue stick. I realized that you're most likely thinking they're still going to fall out. They won't.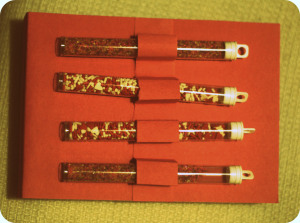 I took a different color paper and made a little seat for the tubes. I folded it two times…
..and glued it down underneath the tubes.
When the box is standing the tubes rest right into the little cubby I made them and they don't slide around because of the red strip I slid them into.
I then, using other papers I had, cut out a few hearts and did some doodling. On the large heart I wrote, "you're sweet as a cookie." The smaller one says, " love, uncle al and aunt linds."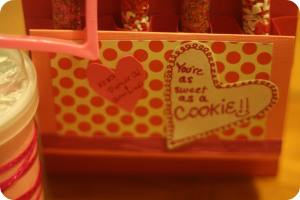 I used some scraps, from the pink paper and pink ribbon I had, to wrap the can of frosting. I stuck another heart on there too.
I wrapped a ribbon around the bottom of the box and brought it up to the top to tie in bow. I tied the cookie cutters together in a ribbon too. Here's the final product:
To make it more exciting to open when she gets it I wrapped it in clear wrap and tied it with another bow. This weekend I'll package it up and send it out to her.
I hope she'll love it as much I loved putting it together. I may not have done the best job explaining the project, but hopefully the photos help! It only took me about 30 minutes to complete the whole thing. Have you guys been working on any fun Valentine's day projects?!
Side note: you might notice the photos look different. Did you know that Picnik, the photo editing site is closing down? Because of that it's free to use for the next few months so I've been having some fun with it!