If you follow me on Instagram or Facebook then you saw a few weeks ago that we embarked on a 16 day road trip that was absolutely amazing. We had been planning this trip for a bout a year – it took a lot of time and back and forth to get it all planned but it was worth it. And really, Al did everything. I packed the car and showed up on the day we were leaving.
This week I'm going to share the details of each stop. And spend each day wishing I was back on vacation!
Moab, UT
Where we stayed: We booked this Airbnb which I was a little skeptical about as it was just a room in someone's home. It turned out to be perfect. We got in late and left super early so we really just needed a bed. The hosts were super accommodating and while it was a room in their home it was very separated from the rest of their house.
Where we ate: Love Muffin Cafe. The only meal we were here for was breakfast so we stopped in for breakfast burritos and coffee after hitting up Canyonlands. It was amazing – highly recommend it. After breakfast we walked around the downtown area of Moab a bit and explored the local shops before hitting the road.
What we did: Arches & Canyonlands National Parks.
Arches: We got to Arches in time for the sunset at the Window Arches area where you can see five different arches. The sunset was amazing and it was a great time to be there as it wasn't too crowded. We were able to climb a few short trails and stretch out after a long drive while watching the sun set.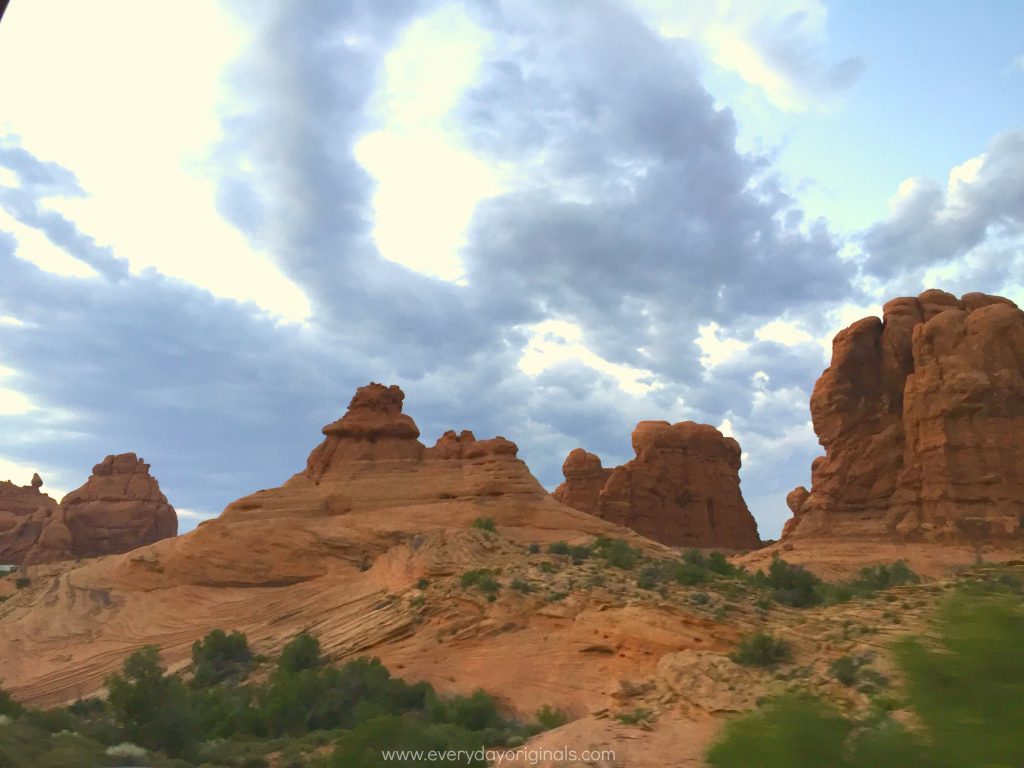 We then drove over to the Delicate Arch and saw it by moonlight, but by this time it was too dark to hike to see it. Both were amazing and I'm glad we stopped on our way to the Airbnb.
Canyonlands: We woke up at 3:30am (!) to make the 45 minute drive out to Canyonlands so we could hike to the Mesa Arch in time for the sunrise. It was a first for us – hiking in the pitch black – but it was amazing how many other people were out there too. And it was gorgeous. It was dark but you were hiking under the light of the stars and that's just breathtaking. The sunrise was really amazing to see through the Mesa Arch. Downside – lots of pushy photographers out there for different reasons than we were.
We then hiked the Canyon Rim of the Upheaval Dome – again it was SO peaceful since we were the only ones out on the trails because it was so early. The air was cool and it was the perfect time for a hike (since it was over 100 degrees during the day!).
We stopped at some of the overlooks throughout the park too – totally worth it even to just park and hop out for a few minutes. We really enjoyed the Green River Overlook and the Island in the Sky Main Overlook.
Helper, UT
We stopped in Helper on our way to Salt Lake City. It's a charming historic mining town, but unfortunately it was mostly under construction so we were unable to experience most of it. Was a great midway point to stop for lunch though.
Where we ate: Balance Rock Eatery & Pub. Great restaurant with a pretty simple menu. Everything was fresh and the rock chips were delicious!
Salt Lake City, UT
Where we stayed: KOA, Salt Lake City. Didn't love it. It was our first time camping at a KOA and we didn't expect it to be right in the center of the city. It wasn't in a great area of the city either, but the property was pretty secure. One thing – the bathrooms were the cleanest of any campground bathroom I've ever been in.
Where we ate: we didn't eat out at all! We cooked at the campsite for most meals and had Sunday breakfast with friends who hosted us at their home!
What we did: Salt Flats, Great Salt Lake, Cathedral Square
Salt Flats: Drove out to the salt flats which was about an hour outside of the city. You just pull off into a rest stop on the side of the freeway and are able to explore them there. It was such an interesting and unique landscape – it looked like snow for miles and miles with mountains in the background but it was 110 degrees and pure salt!
Great Salt Lake: Wasn't worth the stop! It was a half mile walk to get to the lake (through nasty, muddy sand), it stunk SO bad, there were dead birds everywhere, and the Saltair building was a huge letdown. The history behind the building and space is very interesting but it's not worth the visit.
Cathedral Square, Salt Lake City: We headed out before dinner to walk around the city a bit and see Cathedral Square. Not a whole lot in the area but the architecture of some of the buildings was quite fascinating. Aside from that there was a shopping mall and it was very touristy.
After Sunday morning breakfast with friends we hit the road and headed up to Idaho. Stay tuned for those details tomorrow!