Our living room is so narrow that we were running into a huge problem finding a TV console. Everything was just too deep, which in turn was only allowing about twelve inches between the console and the couch.
We tried out a few different options but nothing was working out. I gave in looking for something second hand  but Al thought we should look one last time at the thrift store. I think I had a bad attitude that day and was all "ugh we're never gonna find something." And then. there. it. was.
It was $10, but I obviously had a coupon so we got it for $7. I couldn't believe we'd just found the most perfect console. I knew with a quick coat of paint this thing would fit right in. I can't for the life of me find the before pictures. Which makes me think they were on my cell phone, that's now retired. It was a blonde color before we made it over. And it's originally from IKEA if that helps at all.
We got home, wiped it down with a rag and got to work. Using Krylon flat black spray paint Al gave it three coats. It would have only needed two if we had primed it, but I didn't have any spray primer on hand.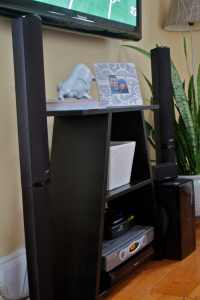 The paint covered it really well. We let it dry for about three days before putting it in place. We wanted to be extra sure that nothing stuck to it and peeled the paint off. I still look at it everyday and think about how perfect it was. It fits the behemoth cable box (WHY do they have to be so large) perfectly and has space for a bin with remotes and electronic cords.
It's amazing. Now, if only I could shove those TV wires behind the wall. Any tips for concealing the wires when you can't put them behind the wall?