The wall sconces in our family room were kind of an eye sore. Though, they're the only source of light, aside from lamps we've added, in the whole room. Which meant we kind of needed them.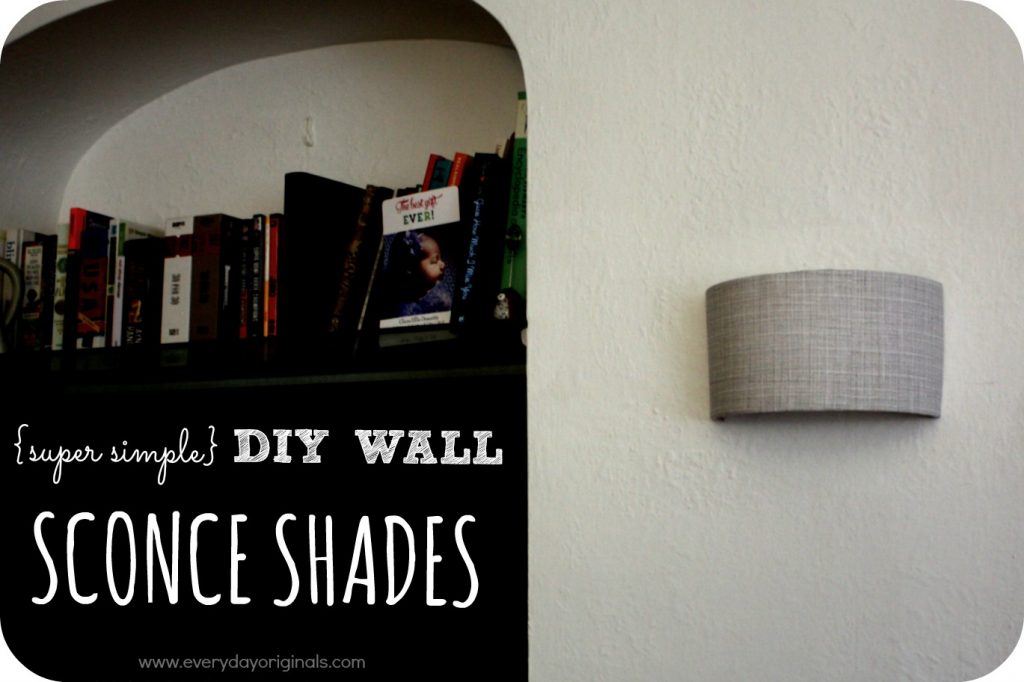 Here's the before, the photos from the listing of our house:
I started researching around and everything I was finding was $40-80 per sconce. Which, I mean, I'm all for a good light fixture but not for that much. The other problem we were running into was that all the sconces we were finding were either for lights connected to a light switch, or needed to be plugged in. Those options didn't align with our situation, which was that each sconce had a switch on them individually.
In the end we decided it would be really great if we could leave the base of the current sconce, not have to mess with any wiring or installing of switches and just get some new shades. That opened a whole new can of worms because just a shade, specific to our sconces, was tough to find. So, ya know, I made them. And it was incredibly easy.
How To Make Wall Sconce Shades
Supplies
(makes 2 shades)
2 wood quilting hoop (I used a 9″)
white poster board
1/2 yard of fabric
4′ plastic corner guard
3M strips
hot glue gun
tape measure/ruler
branch cutter, saw or scissors strong enough to cut through wood
Method
Start by taking the inner circle out of your quilting hoop. This is the part of the hoop you'll be needing. Using your ruler, measure that and cut perfectly in half. I used intense branch cutters, but if you have sharp enough scissors that'll probably do. You'll now have two half circles.

You'll want to cut a piece of poster board to fit the wood pieces. Now, you'll need to decide how far apart you want to space your wood pieces. It'll depend on the sconce your covering. Ours was 8″, so I cut a piece of poster board to fit the length of the wood and then the width we needed.I used my hot glue gun to secure everything, but quick disclaimer. We're using LED lights that give off little to no heat, and our sconces are open on top and bottom to allow any heat to escape. Because of this it was safe to use the hot glue gun. If you have a different situation choose adhesive accordingly.

I lined the edges of the piece of poster board with hot glue and then firmly secured the wood pieces. Once this was complete I trimmed off any glue that was exposed (easier to do while it's still warm).
The fabric I used was some that I had leftover from an old project. It just happened to be the color gray I wanted and have a subtle pattern in it. I cut the fabric, similar to how I cut the poster board, though I left a little bit around the edges, enough to fold over and glue.

I started by folding one end in and gluing only on the wood pieces. Do not glue on the poster board (you'll be able to see it when the light is illuminated).
I then lined the first wood piece with glue, folded the corner in and then tightly secured the fabric to the wood. You will have a bit of overhang that you can trim later.
I repeated steps 6 and 7 for the other piece of wood. You can then go around and trim any fabric that hangs over the wood. You don't want the fabric to hang over the wood as you'll also be able to see that when the light is illuminated.
Next you're going to take your corner guard and cut two pieces to match the width of your shade. These are easy to cut with scissors. You want to position each corner guard a few millimeters from the edge of your shade. Glue just the ends, so where your wood pieces are. Again, no glue on the poster board!

You have now made your shade! I found the best way to hang was using 3M strips. I cut the strips to fit the plastic of the corner guard. Using a level I then measured where the shade would need to hang over the light fixture. Once I marked where, I then firmly attached the shade to the wall.

Now, a few things. Your sconces might be very different. This method can work for any type, you may just need to adjust based on what you're working with.


Your shade size may vary, also adjust that based on your needs. This is just a guide to get you started and a method to alter. It was SO easy, despite the many steps above (I just wanted to be clear!). I already have a few other places to use this method in our home!
For the cost breakdown (I made two sconces):
Poster Board & 2 quilting circles – $4.22 total @ Joann Fabrics

Corner guard – $3 @ Home Depot

3M strips – $3 @ Home Depot

Fabric – had
A total of: $10.22 or $5.11 each! I really couldn't find any for less than $40 so this was pretty phenomenal to me. And, they were actually kind of free because I had a gift card to both Joanns and Home Depot!