When we went to Brimfield a few weeks back, (you can read about that adventure here) we came away with a few great finds. We weren't really going with anything set in our minds to look for, which I think made it a lot more fun browsing through all the stuff that was there.
But, for longer than I can remember I've been on the hunt for old candlesticks that had some fun detail and an antique kitchen food scale. Score and score at Brimfield. Check out what we found!
I've always envisioned a clock like this somewhere in our home/s. Just a great functional statement piece. Especially spray painted a great color. We basically stole it, we paid a measly $1 for it!
When I was purchasing something else from a vendor Al found these amazing beer mugs. We had just been talking about getting some mugs to keep in the freezer for a nice cold beer. These were perfect at $2.50 a pop.
The candlesticks I've been on the hunt for. These were the perfect ones. I love the detail in them. I almost bought 2 other pairs before these for $6 each, but scored these on our way out of the fair for $1 each!
Love, love, love the antique scale. I was expecting to pay closer to $20 for something like this. I got this one, half off, for $6.50.
We thought this table would be perfect as a makeshift coffee table. Our living room is so tiny that we needed something easily movable. This was it and for only $10. Not sure what kind of makeover we're going to give it yet.
I loved this belt and it fit me perfectly. It's so weird-looking, I realize that, but I thought it was so interesting too. I got it for $5 and have already paired it up with lots of different outfits. I'm contemplating spray painting it, but might leave it gold too.
And lastly, our bull. He was $5 and we both jokingly loved him so we had to get him. We gave him a nice makeover, that I'll show you in another post, and he fits great in our living room.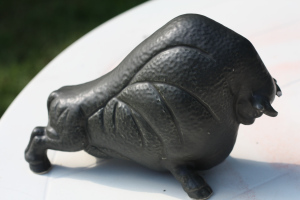 So, that's all from Brimfield. Again, we had a fabulous time and totally recommend if you like that sort of thing. Hey, maybe I'll even convince Al to go back again to the September fair!