I've received SO many questions from people wanting to know more about our Cabo vacation. Everything from where we stayed to what we did to what the weather was like and if we'd go back again. So I thought I'd dedicate a post to it since we loved it and will definitely be visiting again.
Where We Stayed
We made the ME Cabo by Melia our home for the week. We did a lot of research to ensure it was located on a swimmable beach (you can't swim on the pacific ocean side), that it was the right environment for us, that it was close (walking distance) to downtown, and really that it was going to be the best spot for us.
We stayed in a King Suite and upgraded to include breakfast in our daily rate. It was not all-inclusive, but all-inclusives don't always make sense for us with my million food problems. We did include breakfast because that's the easiest meal for me to eat and I won't lie the breakfast menu was quite fancy and delicious. Breakfast was delivered to the room which we appreciated, so we could eat on the balcony overlooking the Sea of Cortez!
The resort had two pools and walked right out to the beach. There was never a shortage of chairs or beach cushions or tiki hut things (technical term there). The staff was phenomenal and very accommodating. ME Cabo is a kid-free resort, which was also a requirement for me. Except that one kid that snuck in with his parents and whined a little too much. People, if it says kid-free be respectful of the others that are vacationing KID-FREE!
There was (loud!) music playing everyday and on the weekends there's a club that plays INCREDIBLY loud music until 2am, so if that's not your thing it wouldn't be the place for you. However, they do a good job of sound proofing the rooms so you couldn't hear the music unless the door was open.
The other great thing was that you could walk up and down the beach and use the pool and beach area at nearly any resort. It was nice to see the other resorts and what they had to offer. We loved it, it was the perfect location and resort for us to spend the week!
Transportation
We chose to take a shared shuttle both to and from the airport. We booked the shuttle from the airport ahead of time and it was a simple process once we got there. After we got through customs we walked right out, looked for the folks wearing Trans Cabo shirts. We had to wait for maybe 10 minutes for the rest of the folks to arrive and then we were on our way.
It cost $19 per person and took about 40 minutes, only about 15 minutes longer if we had just paid for a taxi. However, a taxi directly was $80. On our way to the airport we shared a shuttle with other folks from our resort. It was $20 per person and only took about 25 minutes since we didn't have to make any other stops. Definitely worth the money savings and a very seamless process on both ends.
Our resort was walking distance to downtown which was awesome for two happily active people like ourselves. We took a taxi the first day since we didn't know where we were going, but after that we would just walk the 10 minutes. It was a nice walk with lots to see, so we really didn't mind. And the taxi's are entirely overpriced for the 2 minute ride to town – $10 for it!
Things to Do
While there's no shortage of things to do in Cabo, we tried hard not to exhaust ourselves by feeling like we had to eat at every restaurant and see every possible thing. There's a huge marina that we walked around a few times. We'd grab a drink along the way, but it was just a nice area to walk around. There was a dolphin center where you could swim with dolphins. We didn't swim with them but we got really excited when one would swim by the little windows. #bigkids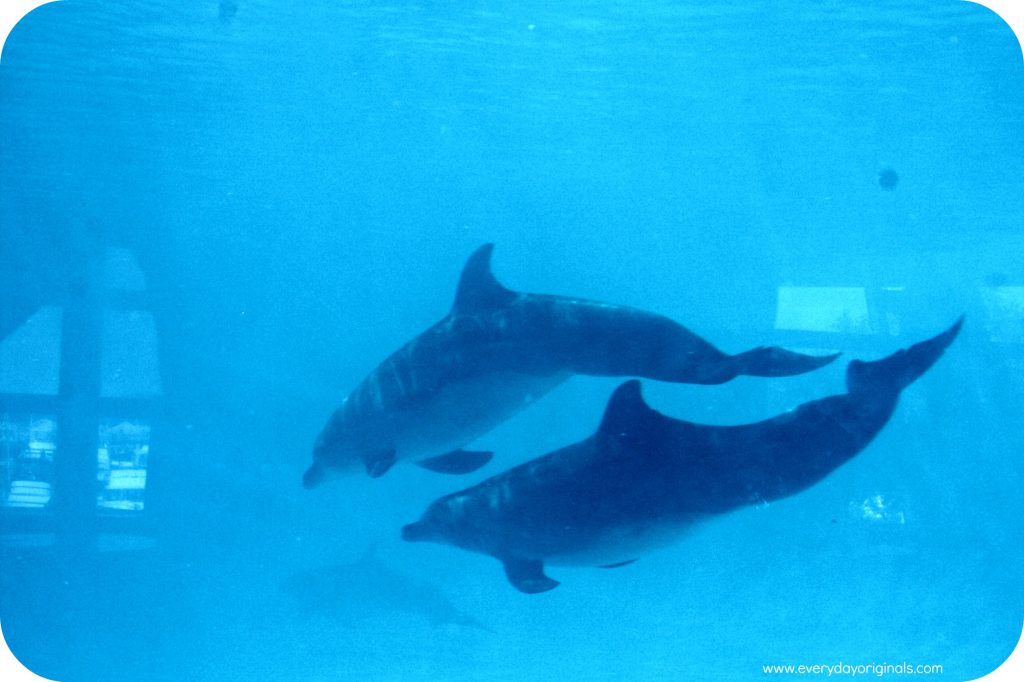 There were lots of street markets to walk through and Al especially loved the street tacos. There were vendors here and there that would sell tacos for a few bucks and according to Al they were the best things ever. I couldn't eat them, but there were always loads of people lined up. Cabo Wabo, a pretty famous restaurant founded by Sammy Hagar, was a great spot to listen to live music, with a margarita in hand, of course.
We ate at Sharky's which was a great place for seafood. I tried to eat lots of seafood as we don't get a whole lot of fresh seafood in Colorado! We also enjoyed happy hours at Mango Deck, which was a great bar right on the beach. Good music, dancing, lots of people and ya know, the daily booty shaking contest. Which was hilarious because most of the booty shakers were so intoxicated they couldn't stand up straight. We also stopped into the casino once, which I don't recommend. It's all electronic so you don't actually have cards or chips in your hands…which was weird and didn't seem legit. We didn't go again, which is unusual for us because we like a good game of black jack!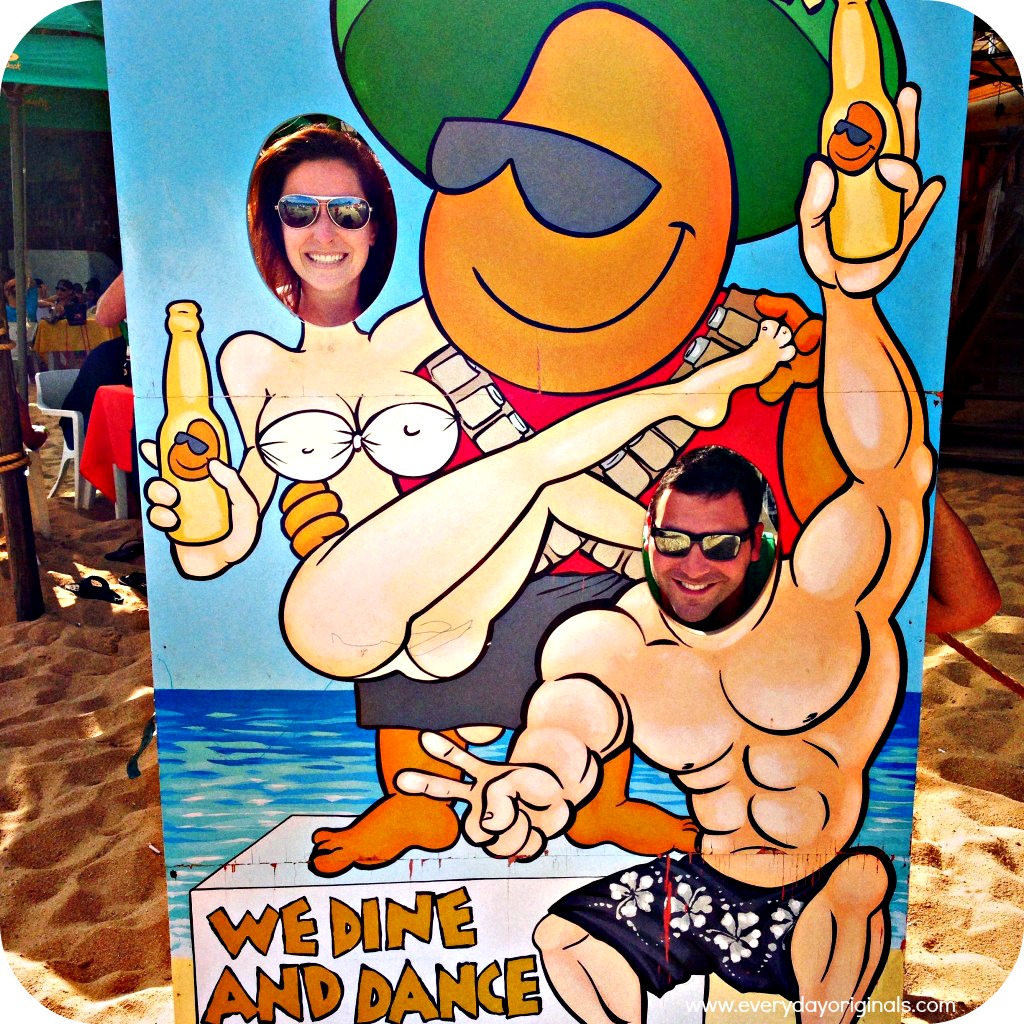 Right outside our resort, and most of the resorts, was a water sport company. We paddle boarded once which I fell in love with. I tried doing it again on our last morning there but the sea was too rough so they shut it down. We also took a glass bottom boat on a short tour around the tip of the Baja Peninsula and then hopped off and got to spend a few hours on the peninsula. On one side of the peninsula is the Sea of Cortez, which is nicknamed Lovers beach as it's much calmer – the other side is the Pacific Ocean, nicknamed divorce beach where the waves are violent, the sea is rough and swimming is not allowed. It was so beautiful and the waves on divorce beach were fascinating.
On our last night there we went on a sunset cruise. We met an elderly couple one afternoon at happy hour who had been coming to Cabo for 25 years. They said if we do just one thing, to take the Rissalena sunset cruise. So we did. And it was awesome. It was $55 per person and included three hours at sea, open bar and buffet dinner. Only 25 people were allowed on the catamaran and it was a blast. We met some awesome people, had margaritas, had a delicious meal, saw a gorgeous sunset and also saw a show by a mama whale and her baby. The cruised us all around the peninsula and we saw amazing views of the beach and resorts. It was so worth the money and I'd definitely recommend it to anyone visiting Cabo. There was a variety of ages (all adults) and the crew on board were awesome, outgoing and fun.
So, 1200 words later I could probably continue talking for another 1200. But I won't. All in all, it was a phenomenal vacation and we know we will definitely be going back. Especially since from Denver you fly direct, flights are inexpensive, it's the same time zone and if you leave by 8am you're on the beach by 1pm! Don't hesitate to reach out or comment below if you have any additional questions!
Please note that none of the recommendations listed above know anything about me. I'm not being perked to share my thoughts. I'm just passionate about sharing with you when I have a positive experiences!