We have this window in our living room that is an old school, blurred tile window. That's not the technical term, but I don't really care what the technical term is since the window is the devil. When the sun hits the front of the building around mid-afternoon it basically shines through those terrible tiles and multiples it's temperature by three and then makes our apartment a sauna.
Worst part is that it's right in front of our desk. I work from home one day and Al is home one day a week, which just makes it miserable. So I set out to find a solution and I stumbled upon a very inexpensive one.
Using two foam boards from the dollar store, I measured and cut them to the size of the window. Using my trusty duct tape I taped the crap out of the whole thing. Al thought I was done then and his face was hilarious. Before finalizing it I placed it in front of the window for a week or so to see if it actually worked and I was shocked that it really did help the sun and heat problem.
I had found a huge amount of linen fabric at the thrift store for a few bucks. It was at least 2-3 yards worth and I still have some left over for another project. Using the fabric I simply wrapped the foam board as if I was wrapping a gift. I again, duct taped the entire thing.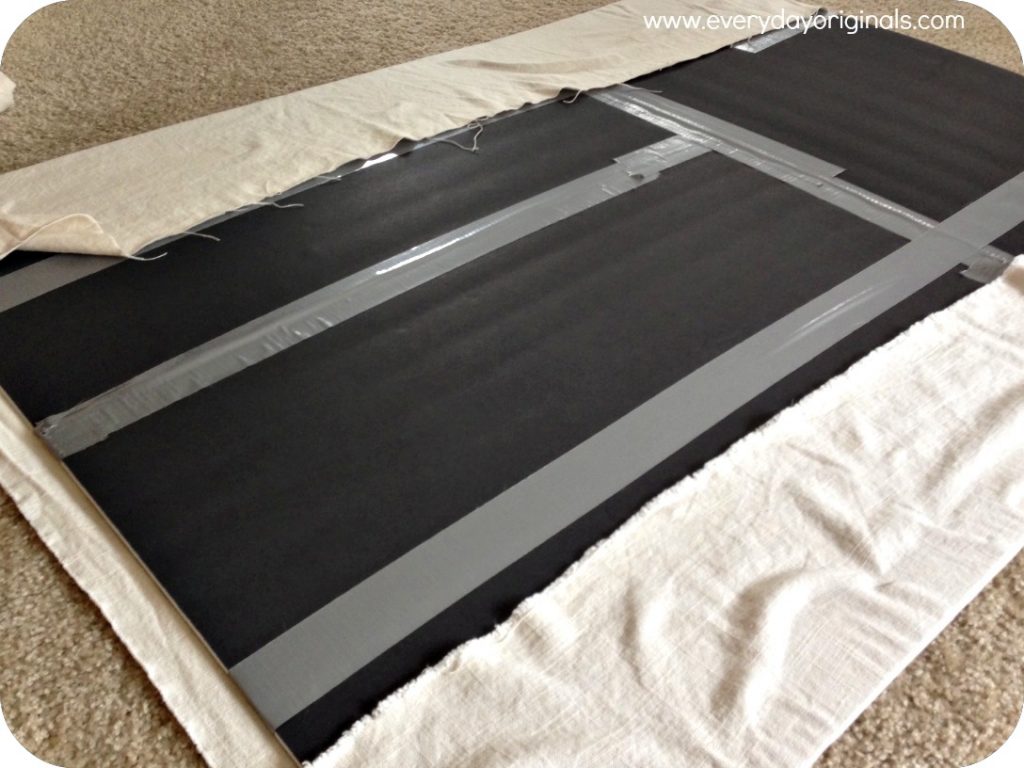 To give it an added touch I added nail head trim around the edges using simple thumbtacks that I got for a few bucks at Target. I placed them about every 5.5 inches.
To hang it, without doing damage to the window or walls around it, I again used duct tape. I love duct tape. I just added a bunch to the back and pressed on it until it was in place. I figure the most I'll have to go is remove the leftover goo from the tape.
Since it's foam board we can use it as a cork board as well, which is great since it's above our desk. I love the way it turned out and it's perfect since I've been needing something around the desk area to pin things up. I think it would also be a great option for hanging holiday cards when the time comes or string small photos up.
For now, I'm just happy that I don't lose five pounds of sweat every time I work from home!