A few weeks ago I was perusing one of the local antique malls (which, if you aren't aware, is a massive building with hundreds and hundreds of antique vendors) and kept stumbling upon this same mid-mod style serving tray.
I thought it was the perfect solution for jewelry organizing and I loved how it closed down but the top tray was open for those pieces you wear regularly.
They were mostly priced between $20-30 and I felt like that was more than I wanted to spend for jewelry organization. So when I stumbled upon one priced at $11 I jumped on it.
It was definitely priced lower because of the condition, was much more beat up, and the finish was wearing off of it, but it was getting a coat of paint anyway so I didn't mind.
I actually used the leftover paint from our bathroom, Behr's Lime Light, and love the way it looks with the beat up gold accents. I thought about spraying the gold parts with a fresh coat but decided I liked the imperfections.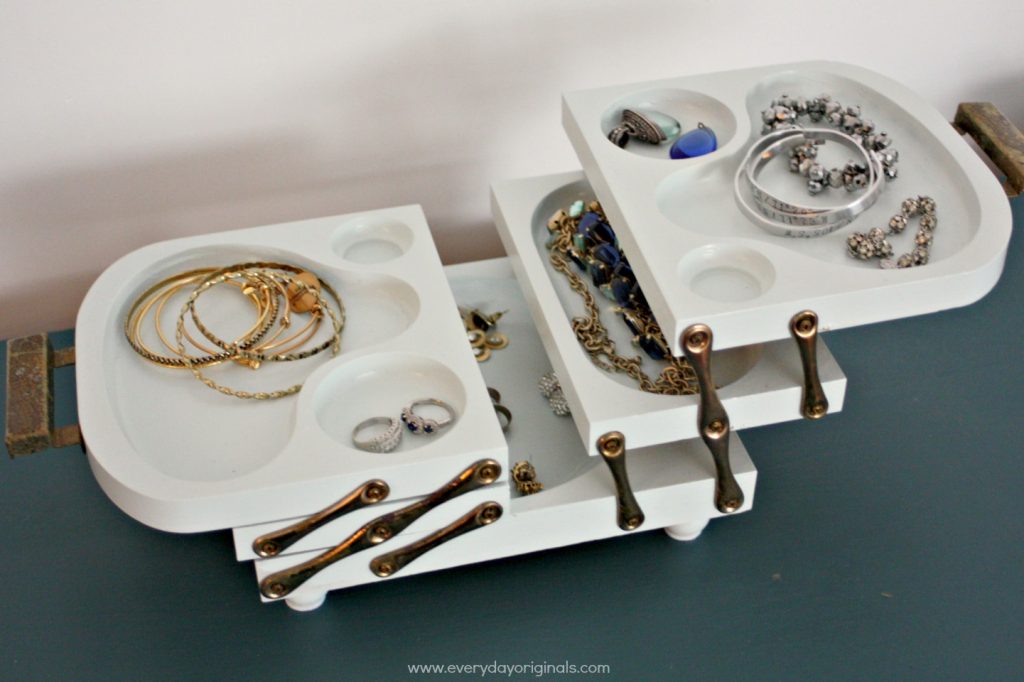 I took all the pieces apart and gave it two coats of paint with a few last touch ups. The whole thing took me maybe an hour while watching a movie last weekend. It's great functionally and I love that it's more of an art piece, than a box, to add to the top of the dresser.