We finally "finished" (no room is ever really finished) our guest room. And truth is it isn't finished, but it's complete for now and capable of housing guests if needed.
We started off here and here a few weeks ago. We finished painting, adding floor molding, updating the light fixture and furnishing the space.
We had that duvet cover so we used it, but I'd like to get one that isn't such a color contrast with the roman shades, something that blends a bit better.
For the nightstands, we used what we had, but I have a new one to share that was a Country Chic project and I'm still thinking on the other – it's such a narrow space, we have a stool there now.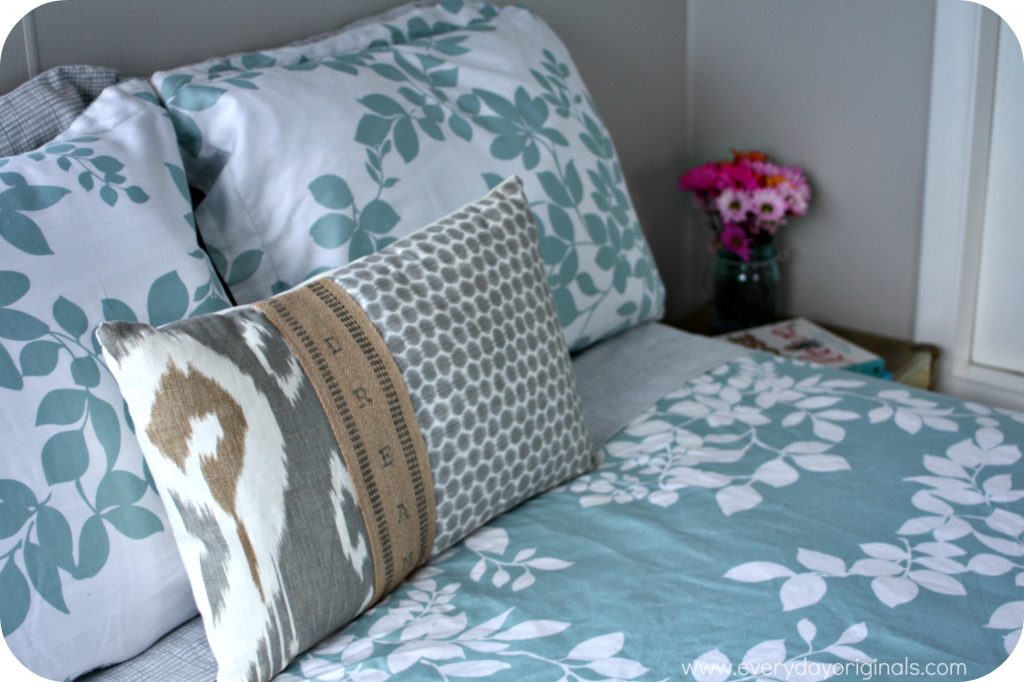 In the closet, I decided to leave the sliding doors off the part over the dresser. I like having it open and it allows guests a space to drop their phone, keys, toiletries, etc.
For wall hangings, we kept it simple. A mirror, a few free printables (found on Pinterest), and the wifi details. I created the wifi printable in PicMonkey.
Other simple, inexpensive updates we made were: painting the vent registers (amazing how different they look with a coat of paint), replacing the light switch and outlet covers and freshen up the built-in drawer hardware with ORB (my favorite). In total, this room probably cost us well under $100 to completely redo (I need to get better at tracking project costs!). Mostly because we used things we already had for the decor/furniture and I got the roman shades on extreme sale. The majority of the cost was paint. We'll continue to evolve this room over time, but I'm content with the way it looks. It's a breath of fresh air in this old house!