See the Utah, Idaho & Montana parts of our trip but clicking those links! Wyoming was the last state we stopped in and we were both coming to the realization that our trip was nearing the end. Which was a bummer!
Yellowstone National Park
Where we stayed: Canyon Campground (north Yellowstone) & Grant Village Campground (south Yellowstone). Both were great, easy check in process, clean facilities and both had dish washing stations (which was amazing). The sites aren't very private, you're sort of on top of your neighbors, so if camping privacy is your thing this might not be the place for you. We didn't have an issue with it since we were staying just one night at each.
Where we ate: we cooked on the camp stove for breakfast and dinner and had PB&J's for lunch! We did grab coffee and muffins at the cafe at the Old Faithful Lodge.
What we did: SO much!
Notes about Yellowstone – they don't give out trail maps and think you're crazy when you ask for one (apparently people don't hike as much there?). It's packed. Like absolute tourist insanity. Drive safely! More people die in car accidents there from looking at animals than people who get attacked by animals. We saw a horrific accident where a life flight was brought in. Be smart and be safe people!
Yellowstone is very much a spectator national park. It's a lot of hop out of the car, look at the views, get back in the car. While that was great and the sights were amazing, it's not entirely our jam. It was quite overwhelming with the amount of people and traffic so I definitely recommend trying to visit the sights during off times of day (and year)!
Wildlife: We saw lots of white tailed deer, mule deer, elk and bison. We were SO close to the elk and they were enormous. There was a ranger there and she was even saying that these were some of the biggest elk she had seen. It was awesome to be up so close to them! We hoped to see moose and bears too but no such luck.
Geysers: Bajillions of them. They're everywhere! It's so hard to capture the eruptions on camera…you'll just have to go experience them for yourself!
Lower Geyser Basin: smelled horrible! Like, so bad! It was an easy walk around to see them all and they're fascinating but the smell. Oof!
Norris Geyser Basic: This was a great stop because there was enough of a walk to see a variety of geysers but it wasn't a full-blown hike. Many were much smaller geysers that erupted more often which was exciting because you knew you'd see something while exploring. 
Steamboat Geyser:  Tallest eruption of any geyser in the world! We saw it erupt but it wasn't anything huge! The landscape around it was awesome.
Firehole Lake Drive – Great Fountain Geyser & White Dome Geyser: The Great Fountain Geyser was our absolute favorite! It's much less crowded and we were able to really sit and enjoy it. We saw it do a super burst, which is multiple eruptions in a row. It was so cool! We saw the White Dome Geyser erupt in the distance and that one was also interesting  as it's raised above ground versus being flat to the ground.
Gibbons Falls: beautiful to see. The waterfall drops about 80 feet with gorgeous views from the overlook.
Artists Paintpots: the colors were amazing! We did a short hike around to explore the different areas within the paintpots. Not too crowded which was nice, lots to see and these ones weren't too smelly!
Brink of Upper Falls: Some of it was closed but we were able to hike down the VERY steep trail and see the huge water falls. We saw an osprey's nest at the lookout point too!
Artist Point: It's in the south rim and we hiked up to it. It was an amazing hike with beauty and colors in nature I've never seen before. I was done for the day at this point so it was kind of a tough hike for us to get through, even though short! Truthfully the end did not have the best views, the views along the way were much better!
Mud Volcano Area: Best ones were Dragon's Breath and Mud Volcano. The muddy geysers have little to no water and it's the bacteria breaking down the soil!
Old Faithful: we couldn't warm up (it got very cold at night) one of the mornings so we got up at 5am and headed out to see Old Faithful. We were much too early so we explored a bit more around the park before coming back to see it erupt. This was the best time to go as there were no crowds (there are normally thousands and thousands of people watching it). It was quite amazing and we're glad we experienced it but we both agreed that the Great Fountain Geyser was the best of them all!
Grand Prismatic: Couldn't even get in the parking lot the first day so we headed here early in the morning after Old Faithful. Unfortunately the steam hadn't burned off yet so we didn't get the best look at it. It was still amazing to see and if you squatted down and looked under the lifting steam you could still see the variety of colors!
Ranger Program: just like in Glacier we decided to stop in at the ranger program and this time it was on the history of bears in Yellowstone. And it was fascinating! Super informative and amazing to thing that just 40-50 years ago visitors were allowed to feed the bears. The bears would come right up to the vehicles. The photos were amazing to see little kids sticking their arms out windows to touch the bears!
Grand Teton National Park
Where we stayed: Grand Teton Lodge @ Colter Bay Village Cabins. Now this was a roughing it cabin, unlike the one in Glacier! Nothing glorious at all. It was a cute little cabin within walking distance to the lake, restaurants and more.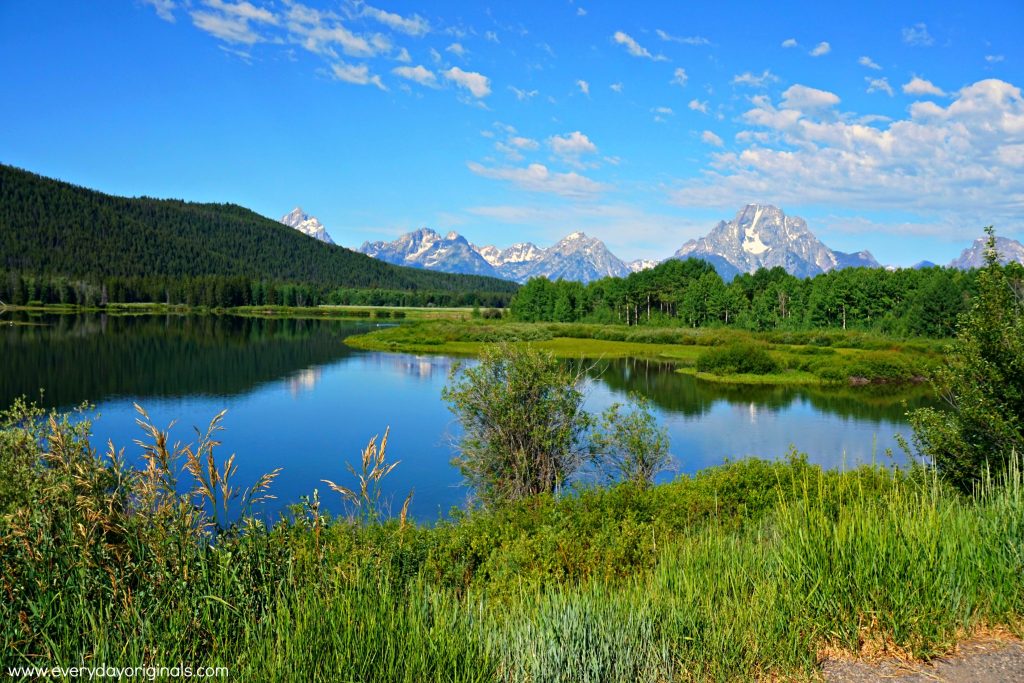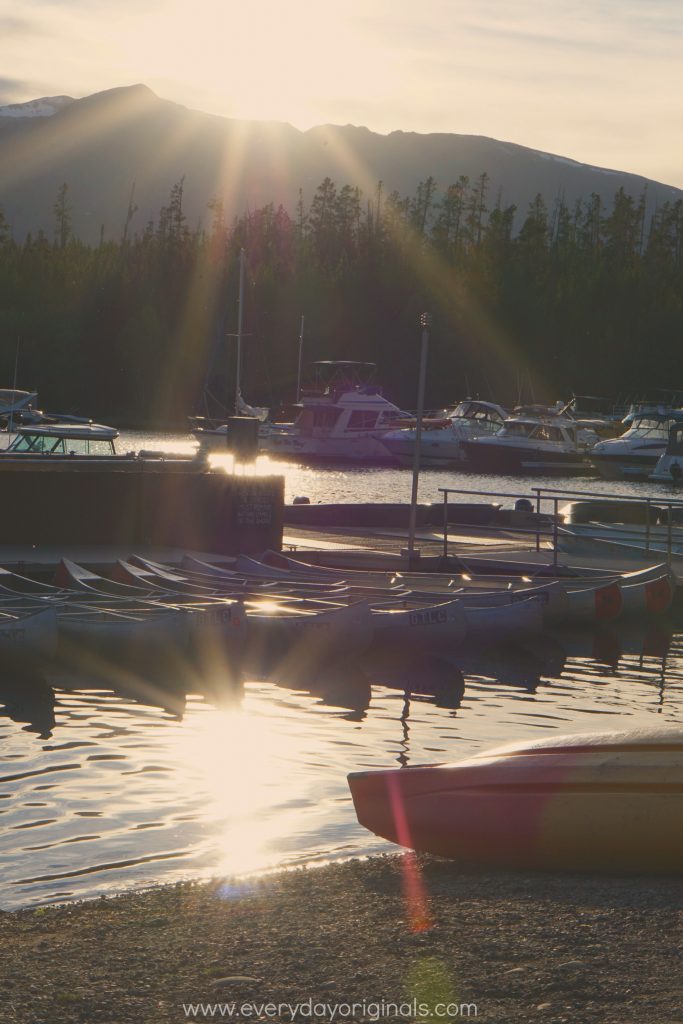 Where we ate: Ranch House. It's on site in Colter Bay. It was standard food, nothing to write home about. Definitely overpriced, but that's what you get for eating in the park!
What we did: This was out last overnight stop and by the time we got here we were exhausted. We spent some time down at the lake and were just blown away by the views. The mountains were just enormous, seemed so close and absolutely gorgeous. We went on a short 2 mile trail walk around the lake which was just enough with our levels of exhaustion. After dinner we relaxed at the lake to watch the sunset and then headed to bed early in preparation for the 8+ hour drive in the morning.
We loved Grand Teton. And if it wasn't a drive away we would have pushed ourselves to do more but we decided that we would make another trip back in the very near future and just explore the park.
Jackson Hole, WY
Jackson was a pass through town on our way back home to CO, so we just spent a few hours there exploring, getting food and walking around.
Where we ate: Persephone Bakery. Al got a sandwich that I found to be very delicious. Great atmosphere and really, really good breakfast!
What we did: It was MUCH more touristy than we thought it would be. We mostly just walked around, popped into different shops, stopped in the visitor center and stretched our legs before a long drive home. Beautiful area, wish we had more time there.
After Jackson we were headed home back to Colorado. We stopped in Laramie for a stretch and snack break where I took over the driving. And drove the wrong direction for 11 miles – due to highway construction there were no open exits.
Needless to say after my three incidents (breaking the car, getting pulled over, going the wrong direction) we concluded that while pregnant I shouldn't be allowed to drive on road trips. I'm cool with that conclusion, I love being the passenger.
We ended up stopping in Fort Collins for quick dinner burritos and live music on the commons. By that point we were tired and wanted to be out of the car, but also wanted to just get home. We arrived home around 9pm after the most amazing 16 days on the road. It's a trip we'll never forget and will cherish always.
It was our last big vacation before becoming a family of 3 and we were both so grateful for it. Huge kudos to my main man for planning and executing such a phenomenal vacation. For driving thousands of miles, for stopping for pee breaks every two hours and hiking breaks every 5 minutes (#pregnancy) and for having non stop enthusiasm even when some days were tough (physically, emotionally and mentally). It was truly my most favorite vacation that we've ever taken and I would do it all over again in a heartbeat. Minus the Butte, MT part.